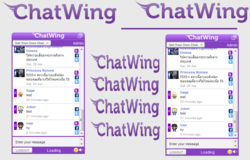 Seattle, WA (PRWEB) April 20, 2012
The gaming community has always anticipated the launch of a Bethesda Softworks masterpiece, whether it falls under the Elder Scrolls belt or Fallout section. However, many gamers were surprised when Bethesda launched Skyrim—the fifth installment in the Elder Scrolls franchise. The overall buzz of Skyrim reached numerous chat sites like the 'professionally simple' Chatwing widget. Because of this gaming craze, Chatwing has become an official chat zone for Skyrim players.
For starters, Chatwing is a simple chat widget that has the capability to provide a small chat room that connects many people from different parts of the world. Chatwing is a stand-alone program but its potential is doubled once it is installed to any blog or website. This is one of the reasons why many people considered Chatwing as one of the best chat engines today. Chatwing has also reunited many Skyrim players from different countries.
There is only one word that can be used to summarize Skyrim: massive. This is probably the reason why many players were enticed to play it. Just weeks after Skyrim has been released, blogs and forums circulated all over the web. Most of these blogs contain tips, walkthroughs, secret places, modifications, items, guides, and many more. Skyrim forums, on the other hand, were twice active. Bloggers who used the Chatwing widget observed that their blogs had massive rates of visibility. Many web surfers visited these blogs—most of them were Skyrim players looking for guides and answers.
Another great feature of Chatwing is the Facebook and Twitter log-in method. Now, guests and visitors can log in using their Facebook and Twitter accounts. This eases up the exchange of information. Through this way, Skyrim players managed to connect to each other. Other chat sites also used social network integration, but their overall connection speed suffered.
Some people who used Chatwing's free chat widget were even surprised of its simplicity. For them, Chatwing takes chatting to a whole new level. In Skyrim blogs, Chatwing helped the bloggers communicate with their visitors in real-time. Because of Chatwing, the bloggers were able to answer the concerns of their visitors easily. Rather than waiting for comments, visitors just posted their questions in the Chatwing chat box and waited for clear response.
About Chatwing
Chatwing.com has developed live chat software for websites and blogs. The Chatwing.com website offers users the ability to signup and create a customizable live chat feature in 1 minute or less. Users have the ability to customize the size, color, and fonts of the chat product. The ability to chat via social media accounts such as Facebook and Twitter enable Chatwing to offer a personal and unique real-time experience to all sites. Chatwing is 100% free web software.