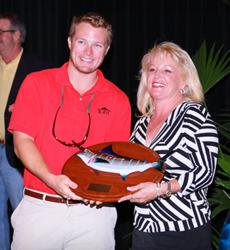 Miami, FL (PRWEB) April 23, 2012
This past Saturday, some of the world's best anglers gathered in Dania Beach, Florida for the ninth annual International Gamefish Association World Record Achievement Awards. This annual banquet honors those individuals who have accrued the greatest number of world record catches over the past year in their respective categories (i.e. men, women, junior, freshwater, saltwater, etc.).
Amongst the veritable who's who of the fishing world was Billfish Safaris' angler, Sjon Harless. Sjon made the journey to southern Florida to accept the award for First Place Female Saltwater Angler. Over the course of the past year Sjon's Costa Rica sport fishing has resulted in the most female world record catches in the world for 2011. She accrued an impressive six world records in her home waters surrounding the Gulf of Papagayo in Northwestern Costa Rica.
Sjon graciously accepted the award, thanking her husband and local support team in Costa Rica for helping to achieve this impressive feat. Beyond the obvious impressive nature of Sjon's accomplishment is that she did all of her fishing out of one location in a handful of fishing days. Normally, these award winners traverse the globe on an annual basis chasing various species in both fresh and saltwater, fishing up to 200 days a year to accrue enough records to qualify. Surprisingly, Sjon made all of her catches from Costa Rica fishing charters, aboard the Plautus, out of Marina Papagayo in just 15 days of fishing during 2011.
Sjon's accomplishment is testament that Papagayo fishing provides some of the best saltwater fishing in the world for both variety of species and quality of the fish caught. Sjon's watery playground hosts four different species of billfish, monster roosterfish, tasty Mahi-Mahi and a wide variety of other species. Sjon fishes exclusively with Billfish Safaris out of Marina Papagayo which runs six high-quality Costa Rica sportfishing vessels that ply the waters of Northwestern Costa Rica. Whether your goal is to catch your first billfish or challenge Sjon's world records, Billfish Safaris can handle it. You can find more information about Billfish Safaris and keep up to date with Billfish Safaris success on Facebook and Twitter (@BillfishSafaris).