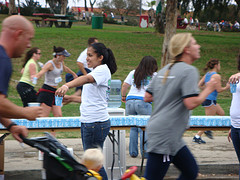 "Reality Changers is a model - not for the city, not for the state, but for the country." U.S. Secretary of Education Arne Duncan
San Diego, CA (PRWEB) April 21, 2012
According to the U.S. Census Bureau's American Community Survey 2008 data the number of people living in poverty in San Diego grew at a much faster rate than in the state or the nation. To help support families in need,Reality Changers' (RC) students will volunteer at the Community Christian Service Agency's (CCSA) Annual Hunger Walk at DeAnza Cove in Mission Bay Park on April 21, 2012.
Each spring CCSA supporters raise funds to provide emergency services to individuals and families in need throughout San Diego County, including food, clothing, and referrals, and where practicable, counseling to assist in their transition to self-reliance. The walk is a 4.2 mile course starting and ending at DeAnza Cove. San Diego City Council member Lori Zapf will help kick-off the walk at 8 a.m. Students will assist in manning water stations, placement of directional signage for walkers and any other additional support needed by event organizers.
"Reality Changers serves San Diego with approximately 40 volunteer weekends per year with a two-fold strategy: First, RC students are encouraged to participate in community service because we want to teach our students how to reciprocate the support they receive from the San Diego community. Second, we know that if our students are up serving by 8 a.m. on a Saturday morning, they can't stay out late on a Friday night and they are too exhausted to go out on a Saturday night... so we can wipe out an entire potential weekend of mischief with one well-planned-out community service event!", states Christopher Yanov, Founder, Reality Changers.
Reality Changers' mission is to provide inner-city youth from disadvantaged backgrounds with the resources to become first generation college students by supplying academic support, financial assistance, and leadership training. America's Finest – Reality Changers' signature year-end event is a celebration for the 100+ students graduating from the 4-year program on Sunday, May 20, 3 p.m. at the University of San Diego's Jenny Craig Pavilion 5998 Alcala Park, San Diego, CA 92110.
To learn more about Reality Changers, please visit their website at http://www.realitychangers.org or contact Marshela Salgado, Vice-President of Communications via phone at (619)516-2219.