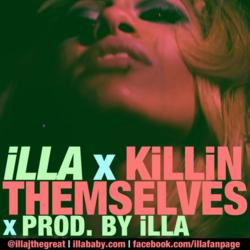 Miami, FL (PRWEB) April 20, 2012
Eclectic musical artist iLLA recently released the official video for his single "Killin Themselves," produced by the artist himself. Coast 2 Coast Mixtapes presents the project along with Illababy Entertainment. It will be featured on iLLA's upcoming mixtape "Max Ernst," hosted by Violator All-Star and Coast 2 Coast DJ Pain 1. Directed by Renea Hisey, Young Feel Collins, and iLLA, "Killin Themselves" tells the story of a woman who "…became a martyr for love."
Next generation emcee, musician, producer, and tireless self-made businessman, iLLA started his music career in 1999 at the age of 14. He has since been awarded Source magazine's Unsigned Hype, featured on hundreds of mixtapes worldwide (resulting in millions of downloads on personal projects), and has received spins of his singles across the nation on Clear Channel radio stations, Internet radio, and Sirius/XM satellite radio.
From DJBooth.net to HipHopDX.com, iLLA has captivated music blogs and online sites with his unique style—venturing not only in hip hop, but in pop, electro, and rock sounds as well. The release of Moxie Black's "How Did This Happen?" in summer 2010 was a monumental statement to iLLA's diverse music abilities and style. His latest endeavors have been more hip hop based, including the hit single "Cranberry Vodka," released through Coast 2 Coast. The single has been a huge success and continues to garner video views and spins from notable DJs in clubs nationwide.
"Killin Themselves" explores the high art conceptual side of iLLA's visual and musical tastes as the Moxie Black alum's own moody, electronic production sets the mood.
"Killin Themselves" is available to stream and view at http://www.djbooth.net/index/tracks/review/illa-killin-themselves/