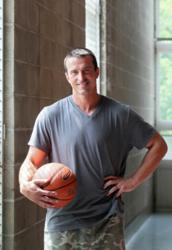 Chris Herren will bring his inspiring story to the Pine Belt Arena in Toms River on Wednesday, April 25th at 7pm.
Toms River, NJ (PRWEB) April 23, 2012
When Chris Herren was young and one of the most highly touted Division 1 basketball prospects ever to emerge from the Northeast, he knew his destiny was to appear before crowds and inspire them. But he never would have guessed the context. Today, years after so many of his contemporaries gave him up for dead, just another sad victim of cocaine, oxycodone, and heroin addictions, Chris Herren has a story to tell that is resonating profoundly with high school audiences across the country. His latest presentation takes place Wednesday night at Pine Belt Arena in Toms River and is sure to be met with another packed house and an emotional response.
Herren's message, as featured in his stirring memoir Basketball Junkie and in the award-winning ESPN primetime documentary Unguarded, has created a sensation among teens. The former basketball prodigy's heartbreaking evocation of a terrifying descent from the heights of NBA stardom to destitution on the streets of his hometown—and the hard-won lessons learned on his long climb back to a normal life—is especially timely at a perilous juncture in which prescription drug use is surging among America's teens, destroying countless young lives.
Herren's fall, rise, and redemption is a powerful story that has provided hope and inspiration to thousands of people nationwide struggling with addiction while also helping deter countless others from ever heading down such a destructive path.
Admission is free and open to the public, so family and students from other schools in the area are greatly encouraged to attend. Herren's presentation is hosted by the Toms River School system at 7pm in the Pine Belt Arena, 1245 Old Freehold Road in Toms River, on Wednesday, April 25th.