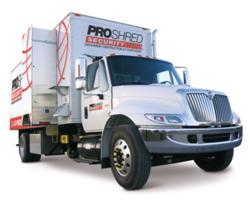 Earth Day 2012 is upon us, we are excited about the numerous community events!
(PRWEB) April 21, 2012
Focused on enhancing the information security of America's small and medium enterprises (SME) through its secure "DOCUMENT DESTRUCTION AT YOUR DOOR" shredding and recycling system, PROSHRED® is pleased to announce that its network of locally managed and nationally operated shredding operations recycled over 21,900 tons of paper in the last year.
PROSHRED® estimates that the resulting recycled paper from its onsite shredding service has contributed to its customers helping conserve over 315,000 trees, 8.3 million gallons of oil, 65,000 cubic yards of landfill space, 87.6 million kilowatt hours of energy (enough to power almost 11,000 average American homes for a year), 153 million gallons of water, and 1.3 million pounds of air pollution.
In addition to servicing America's largest market sector in the SME space, PROSHRED® actively provides onsite shredding for residential customers and hosts a calendar of ongoing Community Shredding Events across the county to help curb identity theft and protect sensitive information. Over the last year PROSHRED® has hosted over 146 Community Shredding Events across the United States.
"We are committed to protecting the confidential information of our business clients, we are committed to curbing identity theft of consumers through our services and shredding events, and we are also dutifully committed to doing our part for the environment," commented Jeff Hasham, Chief Executive Officer of PROSHRED®. "And with Earth Day 2012 upon us, we are excited about the numerous community events we have been and continue to be involved in throughout the 2012 year," continued Mr. Hasham.
PROSHRED® believes onsite document destruction at the customer location, supported by the first-rate processes imbedded in ISO 9001 and NAID AAA Certification, is the best method for businesses and consumers to ensure their private information is securely destroyed and later recycled. With privacy and corporate legislation continuing to tighten, businesses and individuals cannot afford the risks of poor service or the lack of security with their shredding services.
About PROSHRED®:
PROSHRED® shreds and recycles confidential documents and proprietary materials for thousands of customers in the United States in all industry sectors. PROSHRED® is a pioneer in the mobile document destruction and recycling industry. It is PROSHRED®'s vision is to be the 'system of choice' and provide shredding and recycling services on a global basis. Find out more about PROSHRED® as well as our calendar of free local community shredding events for the public at http://www.proshred.com.