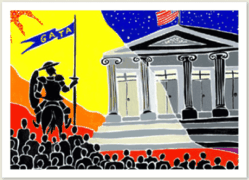 (PRWEB) April 25, 2012
Bill Murphy, chairman of the Gold Anti-Trust Action Committee (GATA.org), will be giving a lecture at the upcoming Money Show in Las Vegas, Nevada entitled "What The GATA , the Silver-Investor, and Liberty Coin & Precious Metals Recommend Today To Protect Your Wealth" This lecture will focus on the gold price and why right now might be the best opportunity to buy.
In January 1999, Bill Became chairman of the Gold Anti-Trust Action Committee to promote awareness of gold as a longer established and more stable wealth preserver than more main-stream options. He has chaired several GATA Gold Summits attracting the intrigue and interest of many world leaders trying to find an alternative safe reserve to the increasingly depreciating U.S Dollar. He has even testified before the CFTC regarding the precious metals markets.
Bill Murphy writes Le Metropole Cafe where subscribers can read about the latest opportunities developing in the commodities markets
Bill Murphy will be giving his lecture for all that wish to attend during the Money Show conventions Tuesday, May 15th at 5:30pm in the main exhibitor hall of Caesars Palace in Las Vegas, NV. He will also be at Liberty Coin & Precious Metals booth Wed May 16th at 5:00pm for those avid fans of his that would like to meet him and discuss the market.
Don't miss this opportunity to meet Bill Murphy and the great members of Liberty Coin & Precious Metals. Visit http://www.libertycpm.com or call 1 800 577 COIN for more information.