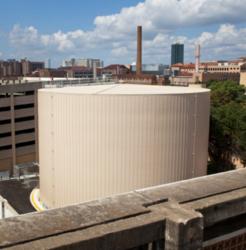 Houston, TX (PRWEB) April 23, 2012
Tyco Thermal Controls, a division of Tyco International and the leading global supplier of heat management solutions, insulated a tank for CB&I which won "Steel Tank of the Year" by the Steel Tank Institute for the 3rd straight year. The award was presented for a thermal energy storage tank on the University of Texas campus in Austin, TX. The Trac-Loc insulation system used on the tank is expected to pay for itself in less than a year through energy savings.
Tyco Thermal Controls was awarded the tank insulation contract through CB&I. The tank stands 67 feet tall and 104 feet in diameter and houses reserves of chilled water that cool campus buildings occupied by more than 50,000 students and professors. The water is chilled during off-peak energy hours to save money. The 100 percent leak-tight tank maintains the cool water temperature to keep buildings comfortable during the hotter, more expensive peak hours.
"At Tyco, we strive to provide heat management solutions that save customers time, money and energy. The University of Texas tank showcases how Trac-Loc can be used as part of a complete heat management system to benefit the customer," said Chris Chism, Tyco Thermal Controls. "It's an honor to have the Steel Tank Institute recognize our engineering and design achievements with CB&I for a third straight year."
The University of Texas tank was installed with the longest continuous single sidewall panels, at 67 feet – a first for Tyco's Trac-Loc team. To ensure the tank added to the aesthetics of the campus, the team also installed a painted aluminum jacket on the exterior tank shell and a low-profile cone roof to minimize the overall tank height in the congested area.
The award, which was in the Special Storage category, is one of several distributed each year by the Steel Tank Institute/Steel Plate Fabricators Association. Entries are rated on criteria that include promotional value, uniqueness of production, aesthetics and effective demonstration.
Tyco contributed to the 2009 Tank of the Year when it insulated the world's tallest thermal energy storage tank in the Texas Medical Center Tank located in Houston, TX. In 2010, Tyco insulated a multi-colored tank designed to look like a waterfall for the Central Utility Plant in Sacramento, California which also won the Tank of the Year award.
You can learn more about Trac-Loc at the ILTA Show at the George R. Brown Convention Center, Houston, TX, May 21-23, 2012, booth #322.
About Tyco Thermal Controls
Tyco Thermal Controls, a part of Tyco Flow Control, is a global company providing optimal solutions for various applications involving heat tracing, floor heating, snow melting & de-icing, temperature measurement, fire and performance wiring, and leak detection systems. With operations in 56 countries and experience in managing projects around the globe, Tyco Thermal Controls is the ideal partner for owners and constructors worldwide. Tyco Thermal Controls manufactures, supplies and distributes products and provides services under brand names such as Raychem, Pyrotenax, DigiTrace, Tracer, Alliance Integrated Systems, Isopad, Frostex, HEW-THERM, TraceTek and WinterGard. More information on Tyco Thermal Controls can be found at http://www.tycothermal.com.
About Tyco Flow Control
Tyco Flow Control, a business segment of Tyco International Ltd., is a leading global manufacturer and marketer of valves and controls, water and environmental systems, and thermal control solutions to vital industries including energy, power, water, mining, chemical, food and beverage, and construction. Tyco Flow Control has more than 15,000 employees in more than 300 locations globally. For more information on Tyco Flow Control, visit http://www.tycoflowcontrol.com.
Media Contact: Peter Curtis, Tyco Thermal Controls, 650-474-7400, pjcurtis(at)tycothermal(dot)com