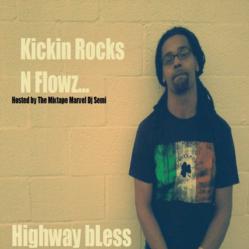 Miami, FL (PRWEB) April 22, 2012
Hip hop artist Highway bLess recently released his mixtape "Kickin Rocks N Flowz." Coast 2 Coast Mixtapes presents the project, which is hosted by DJ Semi. It is now available for free download. "Kickin Rocks N Flowz" features Highway bLess on tracks like "Bein The Best," "Red Cups," "Don't Stop," and "6'7" featuring E.z.
Highway bLess is an up-and-coming hip hop artist/songwriter out of the small city of York, PA. Highway's unique ability to flip and bend words quickly has earned him great respect in his city and the name Mr717. He has currently started a fan base movement called HBC2G' O.E (Home.Base.Cru.Too.Good' Over Everything). This open movement consists of people who have strong beliefs in loyalty, consistency, and the power of music. With Highway bLess promoting his influential music and making connections, his movement is growing each day. With no real management or promotional team behind him, Highway bless still continues to flood the web with undeniable music that he hopes will fall in the right hands for his big break.
Born in Bridgeport, CT, Highway was forced to move to Pennsylvania with grandmother and father at the age of 8 after his mother's passing. Highway's father was an old school MC and would always freestyle and also harmonize, from time to time. His father exposed him to artists like Slick Rick, KRS One, and Biz Markie. Highway's grandmother, whom he stayed and developed a bond with, was a GoGo dancer in her time and her style and collection of music also stuck with him—artists such as Al Green, Marvin Gaye, and Stevie Wonder—all genres which he sponged to create his current sound. In his teen years, Highway favored artists like Big L, Eminem, Jay-Z, and Kanye. These and so many more have inspired this now experienced artist, making him the lyrical, well-balanced songwriter he is today.
"Kickin Rocks N Flowz" is available for free streaming and download at http://coast2coastmixtapes.com/mixtapes/mixtapedetail.aspx/highway-bless-kickin-rocks-n-flowz