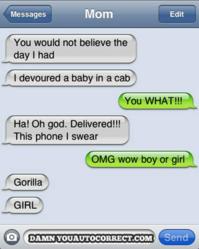 (PRWEB) April 21, 2012
Since it went online, it had been GreenBeanBuddy.com's tradition to make Funny Friday posts. As the term implied, the posts are released every Friday with the purpose to entertain readers with funny videos or images to kick-start the weekend.
For this week, GreenBeanBuddy.com posted smartphone's autocorrect failures for its latest Funny Friday edition. The website picked out 20 hilarious auto correct failures for its viewers' entertainment.
Read the top 20 most hilarious auto correct failures here: http://www.greenbeanbuddy.com/1791/funny-friday-autocorrect-fails/
Apart from the funny posts, the website also shares tips and information to its readers in various topics. Those topics include the following: entertainment, finance, health, home and garden, lifestyle, shopping and technology.
With its diverse subjects, the site aims to be a one-stop source of information to online users. Additionally, with its tips, GreenBeanBuddy hopes to help the public better the lives they live.
Lighten up with autocorrect's hilarious failures. Go to GreenBeanBuddy.com and check out its latest Funny Friday edition.