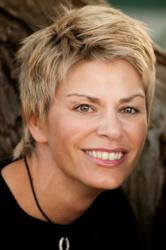 "I recognized a foundational need to be understood, communicate well, and interact with each other in a way that allows each of us to do our best work and be at our highest level of engagement every day."
Bend, Oregon (PRWEB) April 24, 2012
Bend, OR -- Founder of TIGERS® Success Series, Dianne Crampton, announced today that Katherine Grady, owner of Image M Consulting of Encinitas, California has passed the TIGERS team building exercise licensing requirements. As a licensed TIGERS facilitator, Katherine joins the TIGERS Success Series elite "inner circle of team development consulting companies." She brings over 20 years of HR, Marketing, Sales, Training, and Ground to Director level management expertise to the pharmaceutical and biotech facilitation and consulting arena. Her consulting expertise augments the TIGERS® group development foundation dedicated to building collaborative strategic alliances and committed work team cultures with sustainable success.
Katherine founded Image M Consulting based on the principle of "good intent." She offers classes, executive coaching, and facilitative training based on the premise of discovering individual and group dynamic strengths to develop teams of engaged organizational cultures. Coming from a background in behavioral and transformational coaching, Grady strives to uncover the behaviors that lead to success and behaviors that will ultimately lead to failure. She transforms positive team behaviors that are good to "great" and eradicates behaviors that are negative and culturally destructive to team morale and organizational productivity.
"I recognized a foundational need to be understood, communicate well, and interact with each other in a way that allows each of us to do our best work and be at our highest level of engagement every day. So often though, we don't allow ourselves or others the opportunities to be at our best. Miscommunication and misunderstanding breed so many intricate levels of issues that affect a workforce, a team, a company, or a group," explains Grady.
Katherine Grady strengthens her consulting business by adding the additional communication tools and resources provided through the TIGERS licensed facilitation training. She often faces challenges when working with teams who require other avenues of training, team facilitation, and coaching than currently exists in her own "toolbox."
"I am very pleased to welcome Katherine Grady as a recognized TIGERS Facilitator. Her unique experience with pharmaceutical companies is an asset for the work we perform in reorganizations and mergers. As a veteran consultant in her own right, Katherine will be automatically upgraded to certified when our certification and licensing program is complete. In the meantime, we are looking forward to collaborating with Katherine and helping her take her business to the next level," states founder, Dianne Crampton.
Grady recognizes that adding TIGERS state of the art team development resources to her consulting business was the next logical step to enhancing her cache of training and facilitation tools. She is often called upon to mediate newly forming teams, resolve team and organizational conflicts, and consult with individuals seeking to improve their working relationships.
During training, Katherine was instructed on how to use the TIGERS® Team Wheel™ game to teach behaviors that build strong teams, behaviors that will cause predictable problems, and bring teams in conflict to consensus quickly. She learned how to use the TIGERS Team Wheel exercise to help teams reach agreement on setting work behavior ground rules, consensus decision making, and to facilitate action planning for sustainable success. As a licensed facilitator and inner circle member she also receives:

Opportunities to facilitate TIGERS team development events
Revenue sharing opportunities
Two years of business development support and team facilitation coaching
TIGERS Success Series first launched team development and facilitation training for corporate trainers in January 2012. Katherine Grady, as an independent consultant, is one of 10 elite consulting business owners with a unique team development niche in the USA and Canada to be recognized as a licensed TIGERS facilitator.
About TIGERS® Success Series:
TIGERS® Success Series, Inc. is a team development consultancy that has served leaders and their teams since 1989. TIGERS® helps leaders build teams of employees that are as committed and engaged in the success of the organization as the leaders are. Besides expanding their licensed TIGERS facilitator program, TIGERS is also offering another course for corporate trainers on May 23. This course is only offered four times a year and closes to 15 participants. More information is available at http://www.corevalues.com/tigers-team-wheel-game-with-training,
About TIGERS Team Wheel facilitation:
The TIGERS Team Wheel™ facilitation has been used in socially responsible mergers, to build stakeholder teams and for launching large scale change initiatives by TIGERS Success Series for nearly 18 years. Its original launch was for a presentation to the National Institute of Applied Business Ethics in 1995.
The first corporate trainer coached to facilitate the TIGERS Team Wheel™ exercise was the head trainer of Northrop Grumman before initiating a large change initiative.
For additional Information: For additional information on the TIGERS licensed facilitation program or about TIGERS Success Series call Dianne Crampton at 1-541-385-7465 or visit the TIGERS® website at http://www.corevalues.com.
###