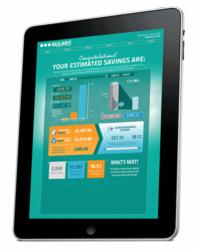 The first purpose of this app is to help consumers see the energy saving benefits of LED lighting. The second, is to show customers how quickly the bulbs can pay for themselves
Washington, DC (PRWEB) April 21, 2012
International CTIA WIRELESS® 2012 today announced the Emerging Technology (E-Tech) Awards finalists will include Nularis, Inc. for its newly released smartphone, tablet and web app that allows enterprises and consumers to calculate their energy and environmental savings if they upgrade to energy efficient LED lighting.
Los Angeles based Nularis, Inc. designed the Energy Auditor application to make the process of upgrading to environmentally friendly LED lighting easier for consumers. The app allows a business to quickly audit its current lighting, instantly receive an accurate projection of the energy savings, and find any utility company rebates that could pay for the project. Nularis will then help the customer find the correct LEDs to match, or improve on the current lighting, and ensure the maximum utility rebate is received.
"The audit app is designed to do two things," says Eric Wang, Director of Engineering for Nularis and the architect of the app, "The first is to help consumers see the energy saving benefits of LED lighting, and the second, is to show customers how quickly the bulbs can pay for themselves."
In fact, most business can get the bulbs effectively for free. Nularis guarantees its customers that their electric bill will drop immediately, and that the savings will cover the cost of the monthly payments for the bulbs.
The modern and clean design was another important consideration in the app's design.
"Other energy audits are difficult for non-lighting industry users," says Christopher Berrios, creative director for Nularis. "The look and feel of the app had to be user-friendly, aesthetically pleasing, and above all, easy to understand."
Making LED lighting technology accessible to consumers is a primary focus for Nularis, Inc.
"The reason new energy efficient technology isn't always embraced by the public as quickly as it could be is that it's time consuming to make an informed decision, and LEDs are no different," says Era Tadevosian, The Nularis vice president of sales. "The Nularis Energy Auditor application takes away the uncertainty, and helps consumers quickly finds out which LED lights are best for them."
Attendees of the CTIA show are encouraged to take a look at the submission when they are displayed in Booth 4575 at the Emerging Technology Zone on the tradeshow floor throughout the show. In addition, attendees may vote for the Nularis Energy Audit app online and via text during International CTIA WIRELESS. To vote for the "Best Online Pick," website visitors should vote at http://www.ctiashow.com/awards.
CONTACT:
Kyle Schee
Marketing Manager
310.492.5960
Kyle(at)Nularis(dot)com