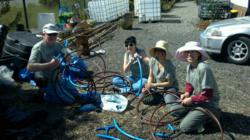 ...this year it felt like a lot of things came together for us, and that we were really operating smoothly as a team to make even more of an impact
Oakland, CA and Fredericksburg, VA (PRWEB) April 21, 2012
In celebration of its tenth anniversary, Marstel-Day, LLC amped up its Earth Day Campaign, with nearly 90 of its employees fanning out to help green the cities where the company is located - Oakland, CA and Fredericksburg and Alexandria, VA. The company's remote employees in Mississippi, North Carolina, and Ohio also participated in local events from those locations.
Marstel-Day, LLC's Oakland, CA office joined in an Earth Day volunteer event with a group called Urban Biofilter, helping in the construction of mobile greenbelts, large mobile planters that provide air filtration, greenhouse gas absorption and wastewater reuse. The mobile greenbelt planters are used in areas where subsurface ground penetration would be inappropriate due to high water table conditions, such as the former wetland areas in West Oakland. Marstel-Day volunteers planted multiple 275-gallon mobile containers in West Oakland, a disadvantaged community area.
Marstel-Day's Fredericksburg and Alexandria, Virginia offices once again teamed up with Tree Fredericksburg and planted 85 trees in downtown Fredericksburg. Tree Fredericksburg is a non-profit group whose mission is to restore and maintain a vibrant urban forest in the City of Fredericksburg.
Company President and CEO Rebecca R. Rubin said: "Even though this is our ninth Earth Day as a company, this year it felt like a lot of things came together for us, and that we were really operating smoothly as a team to make even more of an impact in helping to green the communities in which we live and work."
Marstel-Day, LLC, is an idea-driven, value-based environmental company offering green consulting to the public and private sectors. Since its inception in 2002, Marstel-Day has been committed to executing projects that enhance the environment and permanently conserve natural resources and wildlife habitat.