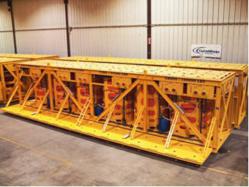 The award of this contract is a great milestone for our custom engineered solutions in the offshore oil & gas market
Houston, TX (PRWEB) April 24, 2012
The SDFS is designed to sit on the seabed in the proximity of a subsea well at depths of up to 10,000 feet (3,000 meters) and provides the capability to deliver dispersant fluid to a deepwater well control incident in the U.S. Gulf of Mexico. The system is designed to allow the dispersant flow to be provided by either a surface vessel or autonomously based on ROV provided flow input.
Equipment to be provided includes three (3) Battery/pump modules, based on OceanWorks proven 150 kWhr UPS system design, two (2) gathering manifolds, two (2) distribution manifolds, static mixers, all interconnecting hose assemblies and deployment equipment.
"The award of this contract is a great milestone for our custom engineered solutions in the offshore oil & gas market", stated Rod Stanley, CEO of OceanWorks International. "We are excited to be participating in this project as it builds upon our existing products and capabilities in complex subsea system engineering, and also allows us to play a part in the ongoing enhancements to deepwater well containment capabilities".
OceanWorks International is an internationally recognized subsea technology company specializing in the design and manufacture of manned / unmanned subsea systems and specialized equipment for military, oil and gas, scientific, and other marine markets. Offering a full range of subsea system engineering, design and analysis, fabrication, testing, and project management services, OceanWorks International has been at the cutting edge of deep submergence and diving technology, operations, and support for over 20 years.
For more information on OceanWorks International products and services please visit our website at http://www.oceanworks.com.
Contact: Keith La Rose, Sales & Marketing Manager
Tel: 1-604-415-0088 - Email: marketing(at)oceanworks(dot)com