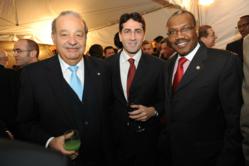 Broadband presents a once in a generation opportunity for addressing some of our most pressing social challenges, and I welcome Dr Orujyan's input to the work of this Commission
Los Angeles, CA (PRWEB) April 21, 2012
Armen Orujyan PhD, Founder and CEO of Athgo Corporation, has joined the United Nations' venerated Broadband Commission for Digital Development as a Commissioner.
The Commission, founded by the International Telecommunication Union (ITU) and UNESCO, comprises a select group of top CEOs and industry leaders, senior policy-makers and government representatives, international agencies and organizations. It is concerned with boosting the importance of broadband on the international policy agenda and expanding broadband access in every country by 2015.The efforts are led by Mr. Carlos Slim of Grupo Carso (Co-Chair), President Paul Kagame of the Republic of Rwanda (Co-Chair), Dr. Hamadoun Touré, Secretary-General of the ITU, Ms. Irina Bokova, Director-General of UNESCO, Sir Richard Branson of Virgin Group, and Mr. John Chambers of Cisco to name a few.
With Dr. Orujyan's appointment to the Commission co-Vice Chair Dr. Touré asserted, "I am pleased to welcome Dr. Armen Orujyan as a member of the Broadband Commission for Digital Development. For over a decade Armen has been pioneering work in the area of social entrepreneurship with a particular focus on creating opportunities for young people. Armen has been engaged in concrete work in this area with pilot initiatives around the world and I look forward to having him on-board as we explore possibilities for harnessing the potential of broadband technologies to add value to his work. Broadband presents a once in a generation opportunity for addressing some of our most pressing social challenges, and I welcome Dr Orujyan's input to the work of this Commission."
Leaders in their respective fields, each Commissioner offers rich insight and experience to strategy of deploying and using broadband networks and services to the benefit of communities and end-users. Dr. Orujyan has focused his work around building and championing programs and initiative that enable young people around the globe teaming up and building projects and businesses using Information Communication Technology (ICT).
In this spirit, co-Vice Chair Ms. Bokova acknowledged, "The Broadband Commission for Digital Development starts from the principle that infrastructure/connectivity alone is insufficient for accelerating progress towards the Millennium Development Goals. What is just as important are the applications and services that will be able to run over such networks, allowing rich and relevant content to reach those who need it most. Young people have an acute understanding of the potential of these technologies, and can quickly identify ways in which they can be used for the good of all societies and their members. I welcome the work that Dr Orujyan is conducting in this regard through its young innovators forum and other initiatives, and I look forward to cooperating with him on the Broadband Commission for Digital Development."
Dr. Orujyan is the Chairman of Athgo International, a non-profit organization based in Los Angeles and the co-Chairman of the UN Global Alliance for ICT and Development. He is frequently invited to present at international conferences about mechanisms for individual and professional success, ICTs role in entrepreneurship, gender equality, and the UN MDGs. Dr. Orujyan earned his Bachelor of Arts degree with Honors in Political Science from UCLA and received his Master of Arts degree as well as PhD from School of Politics and Economics at Claremont Graduate University.
For more information on The Broadband Commission and its Commissioners, please visit:
http://www.broadbandcommission.org/CommissionerListPage.aspx
###
Media Contact:
Nuccio Patti
(818) 345 6734
Email: media(at)athgo(dot)org
Website: http://www.athgo.org
Dr. Orujyan on Facebook