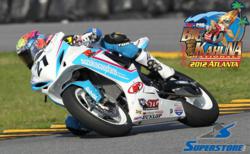 Aside from action-packed racing, there's a huge array of events and experiences to take in at this initial round of the Big Kahuna Triple Crown.
Braselton, GA (PRWEB) April 21, 2012
A packed grid of eager and talented riders is lined up at Road Atlanta for round two of the AMA Pro Motorcycle-Superstore.com SuperSport road racing series. The Road Atlanta event is also the first of three Big Kahuna Triple Crown Nationals presented by M1 Powersports. Using a moto-style scoring system, M1 Powersports will crown one Big Kahuna in each AMA Pro Racing class and award each with a beautiful full-sized surf-ready surfboard trophy, designed by Roland Sands and Motorcycle-Superstore.com.
Elena Myers is hoping for a replay of her stellar results from round one, where she became the first female to win an AMA Pro SuperSport race at Daytona International Speedway. Motorcycle-Superstore.com sponsored rider Devon McDonough is shooting for his first top-ten AMA Pro finish at Road Atlanta. McDonough, a Pacific Northwest rider, grew up at the track but is tackling the national pro circuit for the first time. Road Atlanta is an extremely difficult, technical track, so all of the talented riders in the AMA Pro Motorcycle-Superstore.com SuperSport class will be pushing their skills to the limit.
"The M1 Powersports team headed by Cameron Gray knows how to throw a party," says Tim Clark of Motorcycle-Superstore.com, who is trackside at Road Atlanta. "With activities everywhere you turn for people of all ages, there's excitement in the air, and one thing's for sure, there's some fantastic racing going on."
Aside from action-packed racing, there's a huge array of events and experiences to take in at this initial round of the Big Kahuna Triple Crown. M1 Powersports has lined up Jason Britton to perform street bike stunts, several bands to provide live music, Extreme Team 4x4 Monster Truck rides, Rickey Gadson drag-racing demos, an exotic animal petting zoo for the Little Kahunas, and much more. This is truly a spectacle out here at the Road Atlanta Big Kahuna, where you can come for the party and stay for the white-knuckle bar-banging world-class racing. For detailed information about the Road Atlanta Big Kahuna event, or to purchase tickets, go online to http://www.m1powersports.com/big-kahuna-atlanta.
About Motorcycle-Superstore.com:
Motorcycle-Superstore.com is the leading online retailer in the motorcycle and powersports industry. Serving motorcycle riders for over 12 years, Motorcycle-Superstore.com specializes in selling motorcycle and powersports helmets, riding apparel, accessories and parts at the lowest prices possible. Internet Retailer magazine has ranked Motorcycle Superstore in the top 10 of all sporting goods sites and in the top 200 of all e-commerce sites. Powered by a dedicated staff of motorcycle enthusiasts, Motorcycle-Superstore.com continues to impress customers by constantly raising its online shopping standards. Visit http://www.motorcycle-superstore.com.