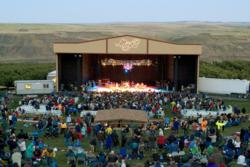 Goldendale, WA (PRWEB) April 23, 2012
Maryhill Winery & Amphitheater is pleased to announce a lineup of five internationally acclaimed performers set to take the stage for its annual summer concert series, July through September, 2012. The Maryhill amphitheater, set against the stunning backdrop of the Columbia River Gorge, will welcome back one the winery's most popular headliners, Earth, Wind & Fire, as well as first-time Maryhill performers Chris Isaak with special guest Shawn Colvin, Alison Krauss with Union Station, and Huey Lewis & The News. Sponsored by Sterling Savings Bank, tickets for the 2012 shows are on sale now at the Maryhill website, http://www.maryhillwinery.com.
Located on the Washington-Oregon border, Maryhill Winery boasts more than 4,000 seats in its sensational outdoor amphitheater. Designed by winery owners, Craig and Vicki Leuthold, as a superior place for music and wine enthusiasts to come together for an unforgettable experience, the amphitheater continues to host sold-out performances and charm guests with an unparalleled wine and music experience.
"Coming into its eighth year, Maryhill Winery's summer concert series has become more than just a winery event, it's become one of the region's annual traditions," said Craig Leuthold, owner of Maryhill Winery. "We have created a Northwest landmark that delivers an unbeatable concert experience; a place where you can sip our award-winning wines, take in the magnificent views, and enjoy incredible live music."
Concert dates at Maryhill Winery & Amphitheater are as follows:

Earth, Wind & Fire – Saturday, July 21, 7 p.m.
Chris Isaak with special guest Shawn Colvin – Saturday, July 28, 7 p.m.
Alison Krauss with Union Station – Sunday, August 5, 6 p.m.
Huey Lewis & The News – Saturday, September 15, 7 p.m.
In addition to their summer concert series, Maryhill Winery features free live music every weekend on the terrace between 1 p.m. and 5 p.m., all summer long. The tasting room is open daily from 10-6 p.m., except on concert nights, as is the new 1200 square-foot Reserve Room. The stunning addition showcases the winery's portfolio of award-winning library wines, as well as rare small lot and limited productions, and will open Memorial Day Weekend 2012. For more information about Maryhill Winery and its popular concert series, visit maryhillwinery.com.
ADDITIONAL ARTIST INFORMATION
Earth, Wind & Fire – July 21 – 7 p.m.
During the 1970s, a new brand of pop music was born, particularly jazz and R&B, but appealing to a broader cross-section. Earth, Wind & Fire embraced and helped bring about this evolution of pop, which bridged the gap that often separated the musical tastes of America. The band's early decades of success continued into the 90s and 2000s with Avatar in 1996; 2003's The Promise, which included the Grammy-nominated "Hold Me" and 2005's Illumination, with Grammy-nominated "Show Me The Way."
Chris Isaak with special Guest Shawn Colvin – July 28 – 7 p.m.
Chris Isaak is infatuated with the glory days of Memphis' Sun Studio and the visionary artists who got their starts there—including Elvis Presley, Johnny Cash and Roy Orbison. Now, at long last, Isaak has acted on this lifelong obsession, magically recapturing the transformative hepcat brilliance of the classic sides in his latest album, Beyond the Sun, while also getting down to the heart and soul of his own deeply rooted musical identity.
Alison Kruass with Union Station featuring Jerry Douglas – Aug 5 – 6 p.m.
Alison Krauss' triumphed with the certified-platinum Raising Sand, her 2007 collaboration with Robert Plant and producer T Bone Burnett, which notched up a total of six Grammy® Awards, including Album of the Year and Song of the Year, to bring her unsurpassed total to 26. Her follow up album, Paper Airplane, is her first album of all-new recordings in partnership with her incredibly skilled band, Union Station, since 2004's Lonely Runs Both Ways.
Huey Lewis & The News – September 15 – 7 p.m.
Huey Lewis & The News topped the Billboard charts through the 80s with "Picture," which remained on the Billboard charts for 35 weeks, and then again with their No.1 album "Sports." "The Power of Love" became the band's first No. 1 song and was even nominated for an Oscar. Also in 1985, the band participated in the USA for Africa recording of "We are the World," opened the Grammy's® and picked up several American Music Awards.
About Maryhill Winery
Established in 1999 by Craig and Vicki Leuthold, Maryhill Winery is the 15th largest winery in Washington state, producing 80,000 cases annually. Nestled among rows of vines along the stunning Columbia River in Goldendale, Wash., Maryhill is a popular destination for picnics and special events, with an adjacent 4,000-seat outdoor amphitheater that hosts a world-class summer concert series and free live music on the arbor every weekend (Memorial Day – September). Maryhill's 3,000 sq. ft. gift shop, tasting room and new Reserve Room, draw more than 75,000 wine enthusiasts from around the globe each year, ranking among the top five most-visited wineries in the state. Maryhill sources grapes from some of the most highly-regarded vineyards in the state, producing 24 varietals and 28 wines, and has claimed more than 1,000 awards since its first vintage in 2001.
Editor's Note: High-resolution winery and amphitheater photography, bottle shots and label artwork available upon request.
###