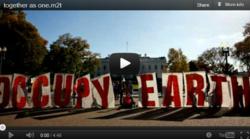 Santa Fe, NM (PRWEB) April 21, 2012
Written by Eric Heithaus, Jeff Nelson and Josh Reed, and arranged by Nelson, "Together as One" is an anthem for the Occupy movement, celebrating the power of the people and emphasizing the need to end poverty and homelessness. Throughout the video, photos of various Occupy protests around the country are interspersed with stark facts about the homeless and poverty rates and other economic indexes.
"Together as One" offers a poignant look at the rise of the Occupy movement, and the conditions that have economically brought the country to its knees. With Angel Diamond on lead vocals, Jimmy Russell and Faith Amour singing backup and Reed singing rap, the song also features Heithaus and Steve Hill on guitar and Nelson on bass and synths.
The video was recorded at Santa Fe Music Videos Studios, which creates music videos with state-of-the-art audio, video, production, animation, graphics and effects. Learn more at http://www.santafemusicvideos.com.
"Together as One" is available to download at http://www.together-as-1.com/home.cfm. For more information, contact Eric Heithaus at (505) 500-7386 or ericheithaus(at)hotmail(dot)com.
About Santa Fe Music Videos
Santa Fe Music Videos successfully and affordably promotes music, specializing in original concepts that compel repeat viewing with an eye to going viral. We offer an array of packages that include editing and audio mastering, storyboarding and pre-imagining production, special effects and much more.
Contact Information:
Eric Heithaus, owner
http://www.santafemusicvideos.com
(505) 500-7386
ericheithaus(at)hotmail(dot)com
About SantaFe.com
SantaFe.com provides locals and visitors to Santa Fe alike the most current interactive platform for events, music, arts, business, dining and lifestyle. SantaFe.com is a division of Hutton Broadcasting, located at 2502 C. Camino Entrada, Santa Fe, NM 87507
Contact Information:
Scott Hutton
SantaFe.com / Hutton Broadcasting
http://www.santafe.com
(505) 471-1067 (Media inquiries only, please)