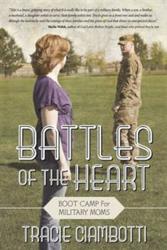 Bennett, CO (PRWEB) April 21, 2012
"What happens to our natural instinct, as a mother, to protect our child when he or she is ordered to one of the most dangerous places in the world? What gets us through the day? How do we survive?" These are the questions Tracie Ciambotti, author of the new book "Battles of the Heart: Boot Camp For Military Moms" (published by WestBow Press), asked herself when her son, Josh, was sent to Baghdad. Ciambotti sensed that thousands of moms across the country were also asking these same questions, and she felt burdened to help.
Ciambotti's son, Josh, enlisted in the U.S. Army two days after he graduated from high school in 2005. Five months later he was on his way to Baghdad and the reality of war began to sink into the depths of Ciambotti's heart. She describes this period as an "emotional battle."
"It's the theme of my book – the emotional battle that occurs when your child deploys to a war zone," says Ciambotti. "Battles of the Heart is my personal experience of the war that was raging in my mind and heart while my son was fighting the war in Iraq. My son was trained and ready for his war. I, as a parent, had no idea that I was marching into my own battle at home. Part II of my Boot Camp for Military Moms is a training guide to prepare military moms and family members for the emotional challenges of deployments."
The importance of "Battles of the Heart," says Ciambotti, is it exposes the burden placed on our military families from multiple deployments and the need for a systematic approach to supporting the parents and extended families of our service members. "My personal struggle with the challenges of military life and the lack of support available for the families of our service members inspired me to write 'Battles of the Heart.'"
Ciambotti hopes her new work will reach not only military families, but all families.
"My hope is for this book to increase awareness to the civilian community of the sacrifices made by military families and promote an understanding that our nation's freedom is not free – service members and their families pay a very real price for our freedom."
About the Author
Tracie Ciambotti is the co-founder of Military Families Ministry, a non-profit organization that supports service members and their families. Her experiences as the mother of an U.S. Army infantryman over the past six years have afforded her the passion and knowledge to be an advocate for military families. Ciambotti is a Blue Star Mother (Denver chapter) and a contributor to the blog, "Off the Base", which focuses on creating civilian awareness of military life. She lives in Bennett, Colorado, with her husband, Jeff.
WestBow Press is a strategic self-publishing alliance of Thomas Nelson, Inc., the world's largest Christian publisher, and Author Solutions, Inc. (ASI) — the world leader in the popular self-publishing industry segment. Through this partnership, authors benefit from the rich publishing heritage of Thomas Nelson and the speed-to-market advantages of the ASI self-publishing model. Titles published through WestBow Press are evaluated for sales potential and considered for publication under the Thomas Nelson imprint. Thomas Nelson, Inc. continues to "inspire the world" with distribution of products in more than 100 countries worldwide. For more information, or to start publishing today, visit http://www.westbowpress.com or call (866)-928-1240. Follow us @westbowpress on Twitter for the latest news.