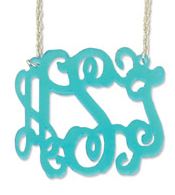 Blue Star Bazaar is offering a special discount on some of its most popular gifts for moms.
Wilton, CT (PRWEB) April 23, 2012
Mother's Day is coming. It's less than three weeks away! Blue Star Bazaar is offering a special discount on some of its most popular gifts for moms. Personalized gifts in the "Special Promotion" section on the website are being offered at 20% off when customers enter code HS20 at checkout. This offer is valid through Thursday, April 26, 2012.
Some of the unique gifts include:

Acrylic Monogram Necklace – This is a hot new item for spring. Acrylic, in a variety of colors or patterns, is cut into a custom monogram pendant. Colors vary from neon pink and lime green to tortoise shell and basic black.
Filigree Name Necklace – This is a classic style given a dose of trendiness by Carrie Bradshaw in Sex in the City. This necklace with her name spelled in classic script will become a treasured heirloom.
Pewter or Sterling Silver Monogram Mother's Pendant – Moms monogram encircled with names of children or loved ones symbolizes that mothers are truly the heart of the family.
Monogram Tray – This is a gift for the lady who loves to entertain. This acrylic tray is etched with a name or monogram in the center. The clear acrylic matches any style or décor.
To see images of these products and more, please refer to the files included with this press release. You can also buy all items here.
Blue Star Bazaar, founded in 2010 by Megan LaBant Abrahamsen, is an online retailer of unique gifts for women and kids. For those looking for unique gift ideas, Blue Star Bazaar offers a range of products that meet the tough standards of quality, individuality, style, and value. Product categories include jewelry, scarves, watches, handbags, t-shirts, toys, and home accessories. Find the perfect gift at Blue Star Bazaar, headquartered in Wilton, CT.
Shop special promotion.