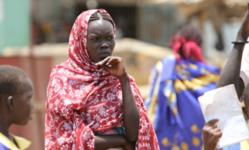 This is a matchless opportunity to impact Pietermaritzburg for Christ.
Pietermaritzburg, South Africa (PRWEB) April 22, 2012
Aiming to bring the Gospel of Jesus Christ to ground zero of the world's HIV/AIDS epidemic, African Enterprise is launching an evangelistic mission to the city of Pietermaritzburg, South Africa, in August 2012.
Capital of KwaZulu-Natal, the country's second-most-populous province, Pietermaritzburg is ripe for the type of citywide transformation which characterizes AE's outreaches. Preparations have been underway for several years for the August 12-19 intensive ministry week, which will see scores of leading evangelists from AE's teams in nine other African countries fan out around Pietermaritzburg to bring the hope and healing so eagerly desired by its many suffering residents.
"This is a matchless opportunity to impact Pietermaritzburg for Christ," says Michael Cassidy, AE's Founder. "We have a unique opportunity before us to usher in a transformative Gospel process to reclaim our city for Christ and meet the profound needs of multiplied thousands of traumatized people in our area."
Indeed the needs in Pietermaritzburg are serious and widespread. The area's Msunduzi Municipality has infamously headlined national news due to maladministration, poor governance practices, fraud and corruption which resulted in the suspensions of all executive directors of the municipality. Furthermore, there has been an increase in public violence, drug-related crimes, marital and family declension, as well as abductions in the city.
Poverty, already at high levels, has been on the rise and some of those affected have resorted to crime as a means to get by. As mentioned, KwaZulu-Natal is tragically the epicenter of the worldwide HIV/AIDS epidemic and is considered one of the main areas of deprivation in the country. The province's history of violence and political division has left thousands of people severely traumatized. And says Cassidy, "The sense of a city close to collapse is resulting in despair among citizens from all communities and from all sectors of society."
Indeed, AE specializes in reaching all sectors of a city's social fabric, through its "stratified evangelism" methodology, which involves evangelists preaching the Gospel to groups both large and small throughout the city, in offices, hospitals, prisons, factories, schools, universities and in marketplaces, taxi ranks and on streetcorners, as well as in evening stadium events. In this way, tens of thousands of a city's citizens, in all sectors of society, are impacted by the hope offered in Christ.
Furthermore, in the years of preparation prior to the mission, AE has built new unity and purpose among pastors and church leaders throughout the city, equipping ministers and lay people to effectively disciple the new believers that come to faith during the mission and offering hope and help to those suffering from HIV/AIDS, poverty and violence. These new Christians are then integrated into local churches, strengthening the church for the future.
Because Pietermaritzburg is not one of the largest South African cities, this allows it to serve as a test environment for a pilot process initiating a national transformation movement, which South Africa sorely needs. Cassidy concludes, "With hundreds of churches in the Pietermaritzburg, spanning across the varied cultures of English, Afrikaner, Zulu, Indian and Colored, as well as a wide cross-section of denominations, the church in the city will be equipped, with AE's help, to play a powerful and decisive role, setting off a Gospel chain-reaction of blessing and transformation throughout Pietermaritzburg, across KwaZulu-Natal and around South Africa."
AFRICAN ENTERPRISE, a global partnership that believes in a bright future for Africa under the Lordship of Jesus Christ, was founded in 1962 by Michael Cassidy, a South African. Our mission – Evangelizing the Cities of Africa Through Word and Deed in Partnership With the Church – is carried out by Africans themselves, who already understand their local cultures and speak their fellow citizens' languages. AE's mission is achieved through the avenues of evangelism, reconciliation, aid and development, and leadership training across the continent.