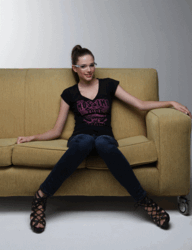 The addition of PayPal as a new payment option makes online shopping at Webglasses easier and safer.
Brisbane, Queensland (PRWEB) April 22, 2012
Celebrating its five years of online success, Webglasses has unveiled a bigger and better online store. The Australian eyewear retailer has just strengthened its position as one of the biggest distributors of eyeglasses by adding some of the major designer brands such as Ray-Ban, Oakley, Salt, and Chilli Eyewear in its inventory.
Webglasses offers its customer a wide selection of frames and lenses at affordable prices. It serves as a one-stop shop for quality online prescription eye glasses and sunglasses where customers can shop according to their preferences of rim designs and kind of lenses. The online store offers designer frames, fashion frames, standard frames, semi-rimless and rimless frames, as well as flexible frames. All frames and clear prescription lenses come with free scratch resistant multicoating, free protective hard case, and free microfibre lens cloth.
Amongst the new additions, Chilli Eyewear is exclusively distributed by Webglasses in Australia. This exciting brand of eyewear offers the fashion conscious with a fantastic and modern style. Its addition to the Webglasses store affords the customers different choices of styles, from colourful square rims to clear rimless glasses.
Better Choices of Frames
Aside from Chilli Eyewear, eyeglasses shoppers will never run out of choices at Webglasses. For fashionable eyepieces, they can always count on the site's Designer Frames or Fashion Frames to give them the best choices. The entry of Ray-Ban, Oakley, Salt, and Chilli Eyewear into Webglasses' inventory adds more variety to the already extensive inventory.
For people who prefer conservative eyewear, there are always the Standard Frames for a more comfortable feel. They are available in different colours and moulded with the latest fashion and style in mind. Rimless and Semi-rimless Frames offers an intriguing mix of style and functionality. Customers can choose among the different colours of half metal, half nylon semi-rimless designs. Full rimless glasses use especially hardened lenses for less breakage.
Webglasses understand the aesthetic value of every eyepiece, offering customers the freedom to choose the type of tint for the frame that they love and incorporating it into a fashionable eyepiece. The site also offers great design for prescription eyeglasses, giving their users the same choice of frames as the fashion eyeglasses.
Superior Lenses
Webglasses only use the best available lenses for every pair of eyeglasses that it creates. All lenses are made from plastic and supplied with anti-scratch coatings for longer life span. They also come with a premium multicoat which is very important in night driving as it improves the user's vision and reduces reflections.
Customers can choose from different kinds of lenses for their eyeglasses such as thin Lenses for a thinner look, UV protection to protect the eyes from harmful UV light, full tint for prescription sunglasses, Transitions Lenses for clear lenses that change to tinted when exposed to UV light, or polarised Lenses to reduce glare.
Privacy and Security
Buyers can shop with confidence at Webglasses as it offers both buyer's privacy during processing and safe payment options. It accepts payments from different cards such as AMEX, Visa, Mastercard, BPay, Diners, and lately, Paypal. All credit card payments are processed using the latest encryption methods for extra security. The addition of Paypal as a new payment option makes online shopping easier and safer as it offers an alternative method for people who are not comfortable with using their credit card online. Customers can now choose payment with Paypal at checkout for a secure and faster transaction.
To boost buyer's confidence that their orders will arrive in time and in good condition, Webglasses ships all orders via Australia Post using Express E-Parcel. All eyeglasses are encased in hard, protective casings to secure them during transit. In the unlikely event that they are damaged, Webglasses offers replacements or a refund once the glasses are returned.
Webglasses is recognised by many major health fund providers in Australia such as Medibank Private, HBA, Bupa, Australian Health Management, and many more. Some beneficiaries of these health providers can avail of special deals and discounts when they shop for eyewear at Webglasses. This partnership enables millions of Australians who rely on benefits from health fund providers to receive the best and most affordable eyeglasses.
More Responsive Customer Service
With its new online presence geared towards better customer service, Webglasses clients are assured of superior service from dedicated and qualified staff. Its registered optical providers and dispensers are highly experienced in providing customers with the best advice about eyeglasses that are tailor fit to individual needs. They are trained to properly balance what the client needs and what are best for them, using their specialised training and professional skills to create the perfect glasses for every person.
The site also features a responsive customer service area who are tasked with answering all customer complaints and queries in the fastest possible time. The new website offers technical support through email and the online enquiry form to receive questions and feedback from customers.
Webglasses guarantees customers' satisfaction and backs this assurance with a money back guarantee if any item fails to meet the customer's requirements. Furthermore, all frames are covered by 12 months manufacturer's warranty.