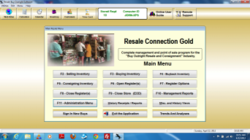 It's All About Resale
(PRWEB) April 24, 2012
As Americans shift gears to "green living" concepts and decisions, the demand for reusable consumer products has sky rocketed tremendously over the past few years and projects to be even more vibrant in the future. This trend has created created many new successful "Buy Outright" resale shops all over the USA, Canada and other countries.
Initially this aspect of the resale industry thrived successfully via "Franchised Management Organizations" that controlled the Franchisees and their store locations. The number of franchises grew rapidly as the resale concept spread. Some Franchised organizations are still growing at a moderate pace and some has seen a drastic down turn and loss of franchisees and revenues.
The primary reason for the failed franchisees was the fact that their franchisors offered no technology solutions for their franchisees to handle the massive volumes of merchandise, products and labor intensive functions of a typical day to day operation.
WorkPlace Software's Resale Connection point of sale software was designed around this "Buy Outright" business model and has been the industry leader of providing this software to independent investors and store owners that are successfully developing and managing their organizations using the software and associated technology options.
Features found in the Resale Connection software give store owners the most cost effective and easy to use functions of their day to day operations. Recently introduced new features in 2012 included, Custom Software Branding, Integrated QuickBooks Journal Entry Creation, Merchandise Buyback, Unlimited Custom Query and Spreadsheet Reporting, and Physical Inventory. Some of the new features coming in May 2012 includes an Employee Time Card Manager and a store customizable "Loyalty Rewards Program",
Download the full working 30 day evaluation copy of the Resale Connection here.
Watch a Resale Connection overview video presentation with buying and selling demonstrations here.
Resale Connection is available in single or multi-user versions and can be purchased as software only or with our popular one stop combo packages that includes computers, printers, scanners, displays, merchant accounts, gift cards, card readers and other consumables. Shop our point of sale store at ResaleBay Web Store.
Contact us for more information or a quote at 214-705-0606