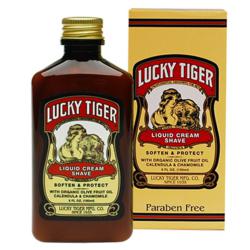 Lucky Tiger is a brand with integrity and tradition, dating back to the American barber shop of the 1920s. We are pleased to incorporate this true-and-tested range of grooming products for men to our sampling of brands from all over the world
Toronto, Canada (PRWEB) April 24, 2012
Since the creation of their first head and scalp tonic in 1927, Lucky Tiger has been providing confidence to men young and old throughout the decades. Fendrihan, stockists of the best men's grooming tools throughout the world, welcomes the classic American brand's barbershop line to their growing inventory of collectable-quality grooming products.
"Lucky Tiger is a brand with integrity and tradition, dating back to the American barber shop of the 1920s. We are pleased to incorporate this true-and-tested range of grooming products for men to our sampling of brands from all over the world," says K. Estredo, Director of Marketing.
Having recently celebrated their 75th anniversary in 2010, Lucky Tiger introduced their new line of "Lucky Tiger Premium" for all of men's needs. Each product in this new, reformulated line is made with the highest quality, certified organic ingredients for a natural, healthy look for today's discerning man. The Barbershop Classic Line, the Head to Tail Collection, and the newly expanded Lucky Tiger Premium Line featuring grooming items such as hair care, personal care, skin care and shaving products can be found at http://www.fendrihan.com.
Known for their products that can make a man look his best at a moment's notice, Lucky Tiger has maintained a fiercely loyal following throughout the ages. Its reputation, retro appeal and
incomparable product performance are now is available to all seekers of fine grooming products who look to Fendrihan for the world's best.
For more information about Fendrihan and their products, go to http://www.Fendrihan.com, or visit them on Facebook or follow them on Twitter.
About Fendrihan:
Fendrihan is the premier Canadian online destination for shaving and grooming supplies for men. With a comprehensive product range that includes traditional grooming staples, hard-to-find products from around the globe and some of the most reputed names in gentlemen's personal care, Fendrihan's selection appeals to veteran wet-shavers and men of any age looking to elevate their daily grooming rituals. The Fendrihan catalog also includes European leather accessories that offer organization and clever convenience demanded and appreciated by their customers.
Contact:
Sales(at)fendrihan(dot)com
1(905) 696-9997