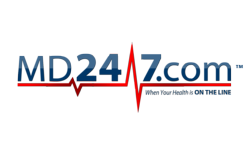 You never know what will happen on the MD247 Facebook page.
(PRWEB) April 21, 2012
Thomas Meehan, Founder of Seminole, Florida based telemedicine leader MD247, alerted local media that his company would be announcing the recipient of a one year free membership in the MD247.COM. April 26, 2012 is the planned date for an official release of the beneficiary information, which will detail material about the program membership and the manner in which its value can theoretically exceed $600.00. Meehan explained to journalists that the receiver of the free telemedicine program membership actually had not participated in a contest, but a discussion with this person at a local charity event struck a nerve with all MD247 staff in attendance. "With so many resources at our disposal, we had to do something for this person," said MD247 Founder Thomas Meehan.
MD247 has planned to release the beneficiary information on their Facebook page, which is located at http://www.facebook.com/md247dotcom. Meehan has suggested that people who are in need, people who have reached the end of available healthcare options and anyone looking to better understand how telemedicine can help an entire family visit the page. MD247 has a history of surprising charitable organizations, individuals and families who are in need of a helping hand and one never knows when the company might choose to help another person.
Seminole Florida based MD247 (MD 247; MD/247; M.D. 247; MD247.COM) provides discounted telemedicine healthcare services nationwide to families, and discounted wholesale telemedicine healthcare to businesses. MD247 has successfully provided 25,000 people the ability to talk to a doctor twenty-four hours a day, talk to a nurse twenty-four hours a day, receive discounted prescription drugs and receive discounted in-person healthcare services. In addition to discounted healthcare services, MD247 provides support to groups supporting the employment of veterans of the United States Armed Services. MD247 services, as well as informational blogs, can be found for review online at http://www.md247.com.