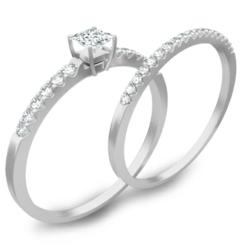 Radiant cut engagement rings provide the customers with the best quality of all fancy shape diamonds
Cockeysville, MD (PRWEB) April 22, 2012
As one of the newest diamond cuts commercially available, the radiant cut may be widely unknown to customers. First invented in 1977 by Henry Grossbard, this cut is graced with step cut brilliance and a remarkable square shape with the corners cut off. At the time, the emerald cut diamond, Grossbard's favorite cut, was waning in popularity; people liked the square shape, but felt it lacked the brilliance which is the whole point of a diamond. After thirty years in the diamond cutting industry Grossbard finally was able to create a truly magnificent gem, the radiant cut diamond. Unlike the princess cut diamond, Radiant cut engagement rings are both of a square or rectangular shape and have the brilliance of a round cut brilliant and the stepped sides of an emerald cut. Therefore Radiant cut diamonds would appeal to customers of all taste as it has a mix of all the major diamond shapes. Keeping this fact in mind, JewelOcean would be introducing the new Radiant cut diamond rings collection to its customers very shortly.
The radiant cut diamond has shown itself to be more than a suitable diamond for modern engagement rings in the short while it's been around. Chosen by many new couples who are looking to get married, radiant cut engagement ring is quietly becoming the next popular choice for diamond rings. As such JewelOcean.com collection would have many popular choices such as radiant cut solitaire rings, three stone rings and even wedding sets which would showcase beautiful radiant cut diamonds in the center. Jewelocean.com prides itself in only using real, naturally produced diamonds for all their radiant cut diamond engagement rings, and will have a full lineup of radiant cut diamond rings available in the next little while.
Jewelocean.com is a leader in the online jewelry business, supplying many different styles of diamond engagement rings, bridal sets and wedding bands to their customers. In business over 10 years and a member of the better business bureau, jewelocean.com is committed to providing their customers with impeccable service, extremely affordable prices and only real, natural, conflict free diamonds. More information about radiant cut diamond engagement rings and many other unique and beautiful items can be found at http://www.jewelocean.com.