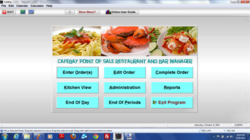 Easy Restaurant Automation Software
Plano, TX (PRWEB) April 24, 2012
CafeBay Touchpos is an easy to use Touchscreen friendly restaurant management software designed for start-up and existing food service businesses. Restaurant owners and managers that wishes to track all aspects of the operations including inventory monitoring, recipe creations, table management, server functions, gift cards, credit cards, customer sales, vendor information and all other aspects necessary to ensure the success of the business.
Cafebay has 2 modes, one for Quick serve and the other for Table service establishments. Kitchen, Bar and Takeout functions are fully integrated with the Table service mode.
Full Credit card functions are included for restaurant operations, inclusive of credit cards and Pin Debit cards Pre and Post Authorizations for Tips processing. Gift cards functionality within CafeBay is free of transaction fees as Gift card balances are managed internally by the program's database.
The program allows for the creation and management of inventory at the unit of measure levels (ounces, cases, etc.) within recipes and combination meals from sales and with re-order functions..
End of day, journals, deposit slips, server closeouts, periodic sales tax summary and other reports included.
Easily out performs most other popular restaurant software packages costing hundreds to thousands of dollars. Our message is simple, use our competitive Merchant Account services and get all the software user licenses you need for no charge.
You will need to purchase computer hardware as needed and software incidence support is only $25 per session if needed.