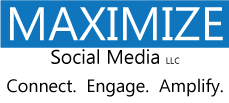 Los Angeles, CA (PRWEB) April 21, 2012
Social media consulting firm Maximize Social Media LLC announced its Twitter Management program today, responding to businesses' need for a strong Twitter presence. The agency will provide full twitter management that includes the development of tweets, re-tweeting, hash tag development, and direct message responses.
"There are a lot of Twitter management tools available but at the end of the day businesses need a human to respond to direct messages, provide strategy in what will be posted, determine which hash tags will get the most exposure, and build a following. We believe businesses will generate more leads and increase brand awareness with personalized Twitter management," said Chris McLaughlin, CEO of Maximize Social Media LLC.
McLaughlin pointed to his own success on Twitter as impetus for a full management program. "I have over 160,000 twitter followers. Given the open network on Twitter, it was simply too time consuming to tweet myself and respond to all of the followers and direct messages– I needed additional help. So our team now handles my Twitter account and does a great job for me. I can use Twitter anytime I want but I also know our business prospects for social media management are being taken care of every day," he said.
Maximize Social Media's Senior Vice President Craig Collins noted how Twitter has generated high brand awareness for him personally. "I now have over 165,000 Twitter followers and people instantly recognize me as an authority on Twitter. If I'm at a social media conference people will walk up and say they are following me. The Twitter platform is powerful if used properly – I have always used it to be a thought leader for social media consulting," he said.
Collins suggested that many business owners are unaware of Twitter's business applications and search functionality. As an example, Collins noted one restaurant he consulted knew of a large convention nearby. "Once the restaurant found out the hash tag for the conference they were able to offer a special just for that conference's attendees. Many of the participants greatly appreciated the special recognition and the restaurant gained clientele," he noted.
Businesses that are interested in Maximize's Twitter management program are invited to contact the social media agency for a no obligation consultation.
About Maximize Social Media LLC
Maximize Social Media (http://www.maximizesocialmedia.com) is a leading social media agency for clients in over 40 different verticals. With offices in Florida and Los Angeles, Maximize provides social media management and Facebook advertising management for clients in English speaking countries such as the US, Canada, and Australia. The company also features social media outsourcing for busy social media mangers looking for additional assistance on a white label basis.