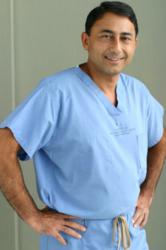 Our goal is to utilize the most advanced techniques to increase the safety and efficacy of vision corrective procedures.
Beverly Hills, Ca (PRWEB) April 23, 2012
When Dr. Rajesh Khanna launched the Khanna Institute of LASIK and Refractive Surgery, he envisioned an environment where world-class eye care was the norm. A pioneer in the field of LASIK surgery, he's succeeded in his goal and to celebrate, he's offering free screenings to new patients.
"Our goal is to utilize the most advanced techniques to increase the safety and efficacy of vision corrective procedures," said Khanna. "The Khanna Institute was conceived with the philosophy of "First do no harm". We only use FDA-approved techniques and equipment."
Khanna is recognized as one of the foremost authorities on vision care in the world, developing many of the techniques and tools that are currently being used in the eye care profession and that have become industry standards. He caters to the fearful and provided superior eyesight to musicians, celebrities, athletes and dignitaries around the world through Laser Vision Correction procedures.
The unique aspect of his practice is that he can offer more than just LASIK for eliminating glasses and contact lenses. These include no cut lasik or lasek for people who have had previous RK or imperfect lasik and superlasik for athletes in contact sports. For people above 50 readers are dispensed with utilizing the latest Prelex or Near Vision Surgery (NVS).
The well-known doctor to the stars provides clients with LASIK surgery, along with customized vision procedures and treatments to accommodate a wide range of vision problems. LASIK surgery using Wavefront technology offers clients an unparalleled level of accuracy for 20/20 vision or better.
Cataracts are a major concern for older patients and those with myopia and hyperopia can choose to have refractive lens exchange surgery. The lno injection, no pain procedure utilizes advanced presbyopic lenses, to reduce eyeglass dependency. These FDA approved lenses include crystalens HD,resotre 3 D and tecnis multifocal.Clients who are severely nearsighted or farsighted can select a PRELEX procedure to prevent cataracts before they happen.
Khanna's skill and dedication to patients is evident. He was voted Best LASIK Surgeon in 2009 by the Los Angeles Daily News. He received the Ventura County Star's Reader Choice Award in 2009, 2010, 2011 and 2012. Khanna maintains an informative blog and website visitors can take an online LASIK self-evaluation. The world-class doctor is the former team ophthalmologist for the Men's USA Water Polo Team.
The Khanna Institute maintains two locations in California for patient convenience. One is located at 240 S. La Cienega Blvd., #250 in Beverly Hills and the second is at 179 Auburn Court #1 in Westlake Village.
Khanna believes everyone deserves the best eyesight possible and has dedicated his knowledge and skill to accomplishing that goal. He's responsible for developing many of the tools, techniques and procedures to repair, restore and enhance vision that have become industry standards. He specializes in painless vision treatments and procedures that minimize risk, reduce recovery time and provide patients with vision for the future.
Khanna can be reached by phone at 1-877-2-KHANNA or via email with the convenient form on the website. For more information, visit the website at http://www.khannainstitute.com.