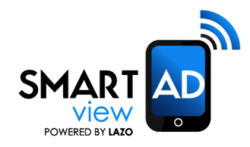 One Small Step for Outdoor Owners. One Giant Leap for the Outdoor Industry.
Miami Beach, Florida (PRWEB) April 25, 2012
LAZO is the only Smartphone application specifically developed for the outdoor industry. LAZO which transforms static billboards into a multimedia engagement tool using Patent Pending technology, is proud to be an exhibitor at the upcoming TAB/OAAA Out of Home Media Conference and Marketing Expo April 30th - May 2nd 2012 at the Fountainebleau Hotel Miami Beach, Florida. The conference the largest of its kind in the US brings together the leading Billboard Owners, Advertisers and Marketers under one roof.
"We are extremely excited about introducing LAZO and our Smart View Ads to the Out of Home Advertising Industry" Gonzalo Labarca President/CEO of LAZO states "Our initial launch has gone extremely well and it is time for the rest of the industry to experience LAZO. Billboard owners will learn first hand how easy it is to implement LAZO. Advertisers will see how Smart View Ads usher in a new era in outdoor advertising. Smart View Ads can be implemented in any advertising structure both traditional or digital in a short time with no special equipment or installation."
Mr. Labarca concluded " We look forward to being able to demonstrate how LAZO will transform Out of Home Media"
About Lazo Systems: Lazo's Patent Pending system transforms outdoor advertising from a static exposure based media to a multimedia consumer engagement tool. Using our application, users can learn more about products and can contact the business immediately. Advertisers can use audio and video to deliver a more comprehensive message to interested consumers.
For more information about Lazo System, visit http://www.lazosystem.com