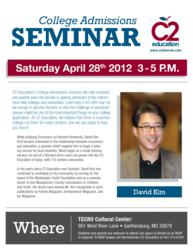 We want to help our students to love learning simply for the sake of learning, to become open-minded and creative individuals with the capacity for innovation, and to learn the importance of community involvement and leadership.
Gaithersburg, MD (PRWEB) April 23, 2012
For most students, choosing a college is the first of many major life decisions. Sadly, many students and parents have difficulty evaluating colleges and universities in order to find the school that best suits their individual needs. C2 Education, the nation's fastest growing network of educational support centers, specializes in helping students throughout the college admissions process – from choosing where to apply to crafting winning applications.
On Saturday, April 28, C2 Education will host a free College Admissions Seminar at the TECRO Cultural Center in Gaithersburg, MD. During the seminar, C2 Education founder and CEO David Kim will help students and parents learn how to begin the college admissions process, including how to find the colleges and universities that best fit each student's needs and wants.
While studying Economics at Harvard University, David Kim first became interested in the relationship between economics and education, a passion which inspired him to begin a tutoring service for local students. What began as a small tutoring service run out of a Harvard dorm room has grown into the C2 Education of today, with 100 centers nationwide.
In the years since C2 Education was founded, David Kim has continued to contribute to his community by serving on the board of the Washington Youth Foundation and as a commissioner on the Montgomery County Commission on Children and Youth. His works have earned Mr. Kim recognition in such publications as Forbes Magazine, Entrepreneur Magazine, and Inc Magazine.
The seminar will be held from 3 p.m. to 5 p.m. on April 28 at the TECRO Cultural Center, located at 901 Wind River Lane in Gaithersburg, MD. Students and parents are welcome to attend this free seminar, but space is limited so please RSVP at (301) 515 – 9192.