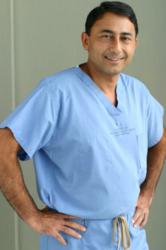 Khanna believes everyone deserves the best eyesight possible and has dedicated his knowledge and skill to accomplishing that goal
Los Angeles, CA (PRWEB) April 25, 2012
Board certified corneal surgeon, and renowned ophthalmologist Dr. Rajesh Khanna M.D. has recently had much success performing Bilateral, both eyes pterygium surgery to help patients suffering from this vision impairment. Pterygium, a common eye disorder, is an unnatural growth in the eye. The texture of the growth is similar to that of skin or a callous growing on to the cornea of the eye. The causes of pterygium vary from sun radiation, UV light, dust, and also genetic dispositions, for example people of Hispanic descent are more prone to this disorder. Usually this disorder is present in one eye but in certain cases it can be present in both eyes.
If nothing is done, pytergium will continue to grow and will completely cover the surface of the eye and eventually causing blindness. Not only will it ultimately cause blindness if left untreated, but pytergium also affects vision. The pytergium can be compared to a piece of string dangling in the eye, unnaturally pulling and pushing the eye, causing irregular refraction and poor vision.
Geographical locations can also be linked to the source of pterygium. Those that live in the tropical belt where there is more sun, have occupations such as farming, and participate in activities including, fishing, skiing, and surfing these individuals are more predisposed to developing pytergium.
In past years pterygium treatment involved, surgery that just strictly removed the pytergium. This technique proved unsuccessful, and in more than 50% of patient cases the pytergium would come back even more viciously causing patients to become incapacitated. More modern treatments include microscopic dissection and removal of the ptyergium, dissection and removal of the scaffold on which the pytergium grows, called the tenons capsule. Next the blood vessels are obliterated, and a graft is implanted to supply new cells and act as a barrier to prevent new ptyergium development from coming back.
The newest and most cutting edge technology involves gluing the graft in place rather than the older technique of stitching which can cause, inflammation, irritation, and require an additional procedure to properly remove the stiches. The glue technique allows for the patient's vision to return to a normal state, and is more cosmetic. Dr. Khanna has found that this new treatment is the most successful and modern way to treat pteryguim and produce lasting results especially in both eyes.
The Khanna Institute maintains two locations in California for patient convenience. One is located at 240 S. La Cienega Blvd., #250 in Beverly Hills and the second is at 179 Auburn Court #1 in Westlake Village.
Khanna believes everyone deserves the best eyesight possible and has dedicated his knowledge and skill to accomplishing that goal. He's responsible for developing many of the tools, techniques and procedures to repair, restore and enhance vision that have become industry standards. He specializes in painless vision treatments and procedures that minimize risk, reduce recovery time and provide patients with vision for the future.
Khanna can be reached by phone at 1-877-2-KHANNA or via email with the convenient form on the website. For more information, visit the website at http://www.khannainstitute.com.
ABOUT RAJESH KHANNA
Dr. Rajesh Khanna is an internationally recognized LASIK and refractive vision care specialist, and the team ophthalmologist for the Men's USA Water Polo Team. He graduated among the top of his class in medical school and is a member of the UCLA faculty. Utilizing his skills to instruct a new generation of eye surgeons on the safest and most effective techniques and procedures, he pioneered many of today's techniques in LASIK and refractive surgery. Khanna invented a variety of instruments to aid in surgeries and speaks at a myriad of national and international professional venues each year. He participates in refractive surgery conferences and wet labs worldwide. Featured extensively in print and broadcast media, he's received prestigious awards and honors from the World Health Organization. He's a member of the American Medical Association, the prestigious American Academy of Ophthalmology and the American Society of Cataract and Refractive Surgery, and certified by the American Board of Ophthalmology.