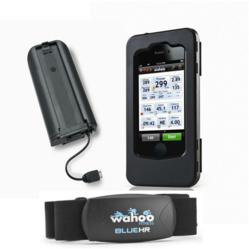 The screen quality of iPhone allows for an experience that rivals a high end bike computer
SanFrancisco, CA (PRWEB) April 21, 2012
The new iPhone 4S Ultimate Bike Pack offers cyclists the ability to use Bluetooth to connect to their iPhone 4S which eliminates the need for expensive dongle receivers and offers supplemental battery for long rides.
The iPhone 4S Ultimate bike pack is made up of the Wahoo Blue HR Bluetooth chest strap, the Wahoo Protector case for iPhone 4S with bike mount hardware for a stem or handlebar location and the Wahoo extended life battery. The battery slides right into the bike mount and then the Protector Case mounts directly on top of the battery and clips directly into the Protector case, which also offers a headphone jack.
This system allows you to get GPS functionality for longer rides because GPS requires much more battery life than the iPhone 4S alone has to offer. You get heart rate data, speed, distance, maps and more with this system.
"We were super excited to be able to put all of these components together for iPhone 4S Ultimate Bike Pack" says Rusty Squire, President of Heart Rate Monitors California. He adds, "The screen quality of iPhone allows for an experience that rivals a high end bike computer plus you have the safety and communications access of your phone along for the ride".
Outside of cycling which initially adopted ANT+ as an inter-device communications platform everything going forward seems to be racing toward the adoption of the Bluetooth standard. "It just makes sense", says Squire. He adds, "The Smartphone industry is the tail that wags the dog here and, that being the case, it appears quite evident that Bluetooth will win the race in the long run because it is much better capitalized."
iPhone 4S Ultimate Bike Pack gives iPhone 4S users the ability to get speed, distance, heart rate, maps and more. Just get a good app for the iPhone 4S like Digifit and you are ready to go ride. Plus you'll have the added benefits of the security of a phone and iTunes along for the ride, so it is the ultimate combination of data, entertainment and safety combined.