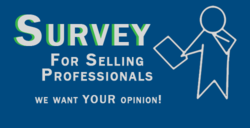 Your opinion matters! All selling professionals are invited to participate.
San Jose, CA (PRWEB) April 24, 2012
Many (but not all!) people believe that selling has changed in recent years and will continue changing at a rapid pace. But when it comes to articulating what these changes are, opinions vary widely.
People First Productivity Solutions is conducting research to find out what selling professionals, the people who deal directly with these changes, think about this. Sales Reps, Sales Managers, Sales Executives and others who work in the selling profession are invited to participate in a survey about how selling has changed and how it will change in the near future.
Selling professionals from all industries, regions and disciplines will be included. There are no restrictions related to length of time in the profession -- opinions from entry level sellers to retired career professionals (and everyone in between) are desired.
The survey includes multiple choice and free response questions related to buyer loyalty, internal support, technology, the role of sales managers, sales process, earnings opportunities, time allocation and more. Sellers are asked to consider what dimensions of selling have changed and how significant those changes have been.
Looking into the future, the survey also asks about likely changes related to buyer habits and expectations, selling techniques and tools, selling roles, and skills needed to be successful. All questions solicit opinions only. No expertise or data is needed, just the candid opinions of sellign professionals.
The research paper to be published by People First Productivity Solutions will be available in July.
To participate in this research, link here and complete the survey before June 15.
If you would like to receive an advance copy of the research, add your e-mail address at the end of the survey. Otherwise, you can choose to respond anonymously.
About: People FIrst Productivity Solutions was founded in 2006 by Deb Calvert, formerly a corporate executive with a Fortune 500 company. People First Productivity Solutions offers assessment, consulting, training and coaching to executives, leaders, managers and selling professionals. Free training, tools, tips and more are available for sellers on the PFPS website. Sales Coach Deb Calvert also takes live, on-air questions from selling professionals on the CONNECT! radio show. Tune in live or listen to the archived shows to ignite your selling power in just an hour.