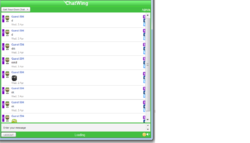 Seattle, WA (PRWEB) April 25, 2012
Gaming websites are the online foundations of every game that was created. Most of these websites contain helpful information and some downloadable contents for avid players. A gaming portal, however, will appear weak if it cannot provide a clear chat support for its followers. This is where Chatwing, a free chat widget, barges in to save the day. Chatwing is the basic professional tool when it comes to delivering customer support.
Chatwing is a new application in the World Wide Web, but it is already gathering enough popularity. This is because of Chatwing's simplicity and high global website chat connection rate. Through Chatwing, many people were able to chat on a daily basis. Some of them also used Chatwing as a major tool in finding prospects for their businesses. Chatwing is a stand-alone program—anyone can chat in the Chatwing website right away, but its potential can hit maximum once it is installed to any blog. There are many chatrooms operating on the same premise, but only few of them can deliver maximum potential for their users.
A gaming portal must be marketed properly in social networking sites. Word of mouth also helps a lot in this case. Every now and then, updates must be created or the portal might wither. Blogs can be great gaming portals too, even though they have tendencies to become full of opinions and reviews. If the Chatwing chat box is installed to a gaming blog, the players can ask questions directly, rather than wait for post comments that may take too long. Famous games that have many gaming portals are Skyrim, Mass Effect, Call of Duty, Sims 3, Arkham Asylum, Saints Row, and many more. Games that exceed 24 hours of playing time also deserve great portals.
As a bonus, Chatwing users can log in using their Facebook or Twitter accounts. This feature allows users to exchange profile information easily. This also makes website chat more exciting. New users are advised to visit the Chatwing website to know more of its advantages.
About Chatwing
Chatwing.com has developed live chat software for websites and blogs. The Chatwing.com website offers users the ability to signup and create a customizable live chat feature in less than a minute. Users have the ability to customize the size, color, and fonts of the chat product. The ability to chat via social media accounts such as Facebook and Twitter enable Chatwing to offer a personal and unique real-time experience to all sites. Chatwing is 100% free web software.