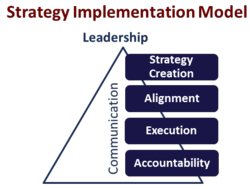 This model provides the broad and consistent context needed to successfully address the toughest business problem today
San Francisco, CA (PRWEB) April 26, 2012
More than 70% of strategy implementation efforts fail. Marva Sadler, a top turnaround CEO for hire shares, "I started my career as a Bain strategy consultant, and then worked in CEO, COO and CFO roles focused on turning companies around. The number one reason companies end up in trouble is because they don't have the skills to execute their strategies. This survey and the strategy implementation maturity model is key."
"This instrument puts Strategy Implementation issues into a broader and consistent context for discussion, learning and improvement," explain Eric and Jeri Denniston of Denner Group International – an international strategy management consulting firm.
"The Strategy Implementation Model concentrates on four critical dimensions," describes David Willden - founder of the popular Strategy-Keys.com website on strategy and execution. These areas include:

Strategy Creation: Methods used to gather, synthesize and manage vital information to support plans and actions
Alignment: The degree to which the organization coordinates, cascades, shares and aligns plans and actions
Execution: The deployment, management and refinement of plans, projects and actions
Accountability: The utilization of metrics, process indicators and performance management to measure and drive results
BE AT THE CUTTING EDGE
Alan Leeds, Chair of the Strategy Implementation Maturity Consortium (SIMC), and President of Y-Change– an enterprise strategy management software application company, outlines that for a limited time, companies with more than 100 employees are invited to participate in the Strategy Implementation Maturity Survey for free. These participating companies will provide input and receive results about their comparative performance. They will also receive valuable tips to help them improve.
The survey contains a total of twelve questions and is estimated to take 30-40 minutes to complete. "The questions themselves are deeply informative," explains Alan. As this is a beta version and will continue to be adapted over the next few months, participants will be asked at the end of the survey to provide feedback and suggestions.
Participating organizations will receive their results, as well as the overall results, as soon as the number of responses from other target companies is large enough to provide reliable conclusions. The Strategy Execution Consortium will also send out and post articles on the web on strategy execution best practices and lessons learned.
TO PARTICIPATE IN BETA PROGRAM
To register to participate in the survey, organizations visit SIMaturity to learn more and register. Contributions are also welcomed.
STRATEGY IMPLEMENTATION MATURITY CONSORTIUM
Strategy execution experts partnered together to establish the Strategy Implementation Maturity Consortium. The consortium includes turnaround CEOs, consultants from top consulting firms, corporate PMO directors and other hands-on strategy execution experts.
The purpose of the consortium is to help businesses significantly improve their ability to successfully implement business strategies. Its mission is to:
Refine a strategy implementation maturity survey to best help businesses quickly and accurately assess their strategy implementation maturity levels
Collect strategy execution best practices and lessons learned in various environments
Provide training and consultant services to help businesses apply best practices based on their current maturity levels and desires to improve