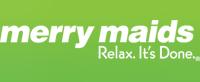 Local Merry Maids owner Steve Mumm says, "There's something about seeing the sunshine that makes us want to bring 'clean' inside our homes."
Sacramento, CA (PRWEB) April 23, 2012
With spring in full bloom, it's time to tackle the dirty details at home according to Merry Maids. Owner Steve Mumm says, "There's something about seeing the sunshine that makes us want to bring 'clean' inside our homes." Mumm offers the following nine household basics to make your home sparkle.
1. Get rid of clutter. If you can't put it away, it's clutter. So divide it into three groups: junk, charity and undecided. Toss the first, give away the second and store the third in a box or bag until you can decide whether it's really worth keeping.
2. Use entry mats. Use only one entry door into your home. Put a sturdy doormat on the outside and another on the inside. It is amazing how much dirt they catch.
3. Clean top to bottom. Clean the house and each room from the top down. Dust first, vacuum last. Vacuum from east to west and north to south. Scrub, wipe and polish in straight lines instead of circles.
4. Defy dust. Change furnace filter and replace vacuum bags monthly. Do not miss vents when you dust.
5. Clean windows and mirrors like a pro. Squeegee the surface with an initial horizontal stroke across the top, then vertical strokes, wiping the blade after each stroke.
6. Create a cleaning carry-all. Store all your basic cleaning supplies in a cleaner's apron or bucket and carry them with you from task to task.
7. Use the clock. Give cleaning solutions time to work. Spritz counters, mirrors and surfaces in the bath and kitchen while you scrub the sink, tub and toilet. Then wipe them clean.
8. Use the right tools. Cotton diapers are great for most jobs, but some tasks require a specialist. Try a damp sponge to quickly remove pet hair from upholstery and pillows. A dry sponge erases grime from acoustical tiles. Wear cotton gloves and clean mini-blinds by hand.
9. Call the experts when you need them. Merry Maids (916) 852-2828 or visit http://www.merrymaids.com.
###