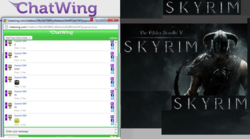 Miami, FL (PRWEB) April 22, 2012
One of the best things about Bethesda's Skyrim is the fact that players can create modifications that can liven up the game. These modifications or 'mods' alter many gaming elements that Skyrim has to offer. A mod can make enemies appear larger, or create new sets of weapons and equipment. The developers of Chatwing have recognized this niche and recently launched a website chat box that can help Skyrim players get the mods they need.
Chatwing is all about communication. It is a simple chat box that has improved features and can maintain global connection for a long time. Simply put, this means that everyone can enjoy hours of chatting. Since Chatwing is a widget, it can also be installed to blogs and websites. This is why Skyrim mod blogs can benefit a lot from Chatwing. Through the widget, the players can post their mod inquiries and requests. The blog posts, on the other hand, will give valuable information or links for the mods.
Many gamers consider Skyrim as the best RPG game of all time. This is because of the fact that Skyrim is so massive and can easily eat chunks of gaming hours. Skyrim does not force anyone to finish its game quests within a specified time. Players can opt not to even take the quests. In gaming terms, this is called an open-world gameplay. 'Modding' Skyrim takes a lot of skill since it is a very complicated game. The sizes of mods vary according to the effects that it can bring up for the game.
Some mod bloggers who already used the Chatwing widget have experienced tremendous visibility increase for their blogs in just days and weeks. This simply proves that a simple and free chat widget can really make a difference. According to some bloggers, Chatwing can truly liven up any blog.
Using Chatwing's website chat box is really easy. The user must first register his blog's domain name. After that, he can now proceed to customization. He can choose to edit the height, width, color, and name of the widget. There are lots of colors to choose from. This high level of customization has also attracted a lot of users.
About Chatwing
Chatwing.com has developed live chat software for websites and blogs. The Chatwing.com website offers users the ability to signup and create a customizable live chat feature in 1 minute or less. Users have the ability to customize the size, color, and fonts of the chat product. The ability to chat via social media accounts such as Facebook and Twitter enable Chatwing to offer a personal and unique real-time experience to all sites. Chatwing is 100% free web software.