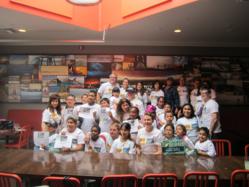 I believe today's event was truly life-changing for them. -Pamela Penson, CEO Walk With Sally
Hermosa Beach, CA (PRWEB) April 22, 2012
On April 21st at 9 a.m. local charity Walk With Sally brought more than 20 children who's families have been affected by cancer to Hermosa Beach favorite restaurant Hot's Kitchen for their "Friendship in the Kitchen" event. It was a day of empowerment, filled with educational fun courtesy of Chef Sean Chaney and surprise guest photographer Bo Bridges.
The morning started off with a tour of the kitchen led by Chef Sean Chaney where kids and mentors learned about the equipment in a professional kitchen and what it's like to be a chef. Shortly after, surprise guest Bo Bridges gave participants a quick photography lesson and let them shoot some photos.
The main event was a cooking tutorial led by Chef Sean, where the kids were taught hands-on how to cook two easy and delicious dishes for their families – Garden Fresh Salad and Shrimp Pasta. After a lunch of Hot's specialty burgers and tacos, each child went home with a gift bag filled with the necessary ingredients and materials to prepare the meals at home, including kid-friendly cooking utensils from Kidding Around in the Kitchen.
Chef Sean Chaney was thrilled to be a part of the event saying, "I had the best time today. It was so fulfilling to be able to teach these kids to make an easy and healthy meal. The way they got so excited about the little things we take for granted, like setting the table, or helping clean up, was humbling to see."
Pamela Penson, the CEO and President of Walk With Sally commented, "I'd say about 80% of the children here today have never learned how to cook or really set foot in a kitchen, so I believe today's event was truly life-changing for them. These kids have been searching for a way to give back to their families who have been so affected by the loss of a loved one to cancer, so by enabling them to go home tonight and cook a meal for their parents is incredible."
About Hot's Kitchen: Hot's Kitchen was founded in 2011 by childhood friends Sean Chaney and Michael Lindenlaub. After nearly fifteen years in the restaurant business and two successful ventures, the duo saw an opportunity to bring a unique community-focused dining experience with a killer menu to the South Bay. Hot's Kitchen is located just blocks south of the Hermosa Beach pier at 844 Hermosa Avenue, Hermosa Beach, CA 90254 and is open Monday – Sunday, 11 a.m. -10 p.m. For more information visit http://www.hotskitchen.com or check them out on Facebook and Twitter.
About Walk With Sally: The mission of Walk With Sally is to provide mentoring support programs and services to children of parents (or siblings) with cancer – one child at a time, one heart at a time. All Walk With Sally programs and services are free of charge and open to all children between 7 and 17 years of age. Walk With Sally programs are dedicated to helping children successfully cope with the emotional trauma of a parent's or sibling's cancer. http://www.walkwithsally.org
Media Contact: For additional information or high-resolution images from the event, please contact Kelley(at)melrosepr(dot)com, (310) 570-9970.