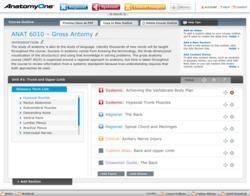 AnatomyOne Course Outlines open up a whole new way for professors to help students prepare for lectures, labs, and exams.
(PRWEB) April 22, 2012
Amirsys AnatomyOne today introduced an innovative set of faculty resources to anatomy educators at the American Association of Anatomists meeting in San Diego. Anatomy faculty gathered to hear about AnatomyOne Course Outlines, which allow educators to create an organized set of links to AnatomyOne modules, custom atlases, and custom glossary lists.
Technology in anatomy education is a major focus for this year's conference, and AnatomyOne is meeting the challenge with innovative solutions for medical school faculty. AnatomyOne's Course Outlines put a new twist on a traditional syllabus or curriculum. Like a traditional syllabus, the Course Outline tools let faculty define time-based study units, informing students about what they should study and when. AnatomyOne Course Outlines go one step further, providing an interactive, professor-guided study tool for students.
"AnatomyOne Course Outlines open up a whole new way for professors to help students prepare for lectures, labs, and exams," says Professor Mark Nielsen, AnatomyOne Executive Editor. "Finally, we can reach beyond assigning a chapter in a text. Now we can also assign customized atlases, with hand-picked images, as well as customized sets of glossary terms. What a powerful way to provide a consistent learning experience."
When faculty post the AnatomyOne Course Outline to their school LMS (learning management system), students can click on module links and go directly into the AnatomyOne modules. They can also click on atlas links and view atlases the professor has created to help them prepare for upcoming learning activities in the classroom. Students can also study lists of glossary terms and definitions professors have customized.
In addition, faculty can download custom atlases to PowerPoints and PDFs, so they can use the same images during lectures that they have assigned students to study.
AnatomyOne releases in June, 2012 with a complete set of faculty resources.
ABOUT AMIRSYS
Amirsys, Inc. is a leading provider of innovative online healthcare solutions in medical education, radiology, pathology, and surgery. Over 99% of North American academic medical centers use Amirsys products daily. Through use of its proprietary technology and image-intensive, expert and evidence-based content, Amirsys provides online problem-solving solutions to thousands of radiologists, pathologists, surgeons, and residents-in-training worldwide.