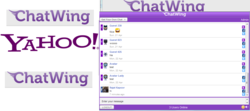 Dallas, TX (PRWEB) April 22, 2012
Getting compared to something big is truly flattering for many individuals. For some, this is the gauge of success that indicates the several achievements of a person, business, or any entity. This has been the case of a simple and free chat widget known as Chatwing. Recently, many bloggers have compared it to the grand platform of Yahoo chat. For a comparison like that, an application must be reliable enough.
Chatwing operates on a simple but powerful platform. This application is all about proper global connection and how to achieve it in a daily basis. Once a user is connected through Chatwing, he can enjoy hours of chatting experience with other people. There is no need to download complicated applications or input different types of commands. Chatwing is straightforward, especially when it comes to installation.
One of the best features which made Chatwing elite is the social network integration. Through this feature, guests and visitors can log in using their Facebook or Twitter accounts. The developers have also created a way for Chatwing not to slow down whenever there are many users who logged in using their social networking accounts. This is already considered a feat because some website chat sites deliberately slow down if there are many users. Bloggers have also commented that the social network integration allows easy profile exchange between chatters.
The Chatwing app is also a stand-alone program. People can chat on the Chatwing homepage right away. Adding to that, Chatwing can also be installed to any blog or website. Once installed, Chatwing's potential goes on the double. The application boosts a blog's visibility by providing a simple avenue of communication for visitors. Now, visitors can chat about the blog's content, post questions, and talk about any topic imaginable. The visitors can also use avatar displays and cool emoticons to make the chatting experience enjoyable.
These simple features were strong enough to compare Chatwing to Yahoo chat. In just few weeks after its latest release, this free chat widget has already generated thousands of sign-ups from many parts of the world. The developers are anticipating more.
About Chatwing
Chatwing.com has developed live chat software for websites and blogs. The Chatwing.com website offers users the ability to signup and create a customizable live chat feature in 1 minute or less. Users have the ability to customize the size, color, and fonts of the chat product. The ability to chat via social media accounts such as Facebook and Twitter enable Chatwing to offer a personal and unique real-time experience to all sites. Chatwing is 100% free web software.