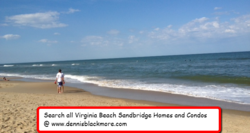 Dennis spent two summers with us searching for the perfect rental and retirement home - never once did we feel pressured but rather appreciated his patience and saavy advise
Virginia Beach, VA (PRWEB) April 26, 2012
2012 provides plenty of reasons why to Live and Love Sandbridge Beach. This continues to be a "Sought Out Virginia Beach Area" for locals and out of town real estate buyers searching for the perfect home, condo, rental investment property, or building a dream home.
With that said, let's share the Great reasons to Live and Love Sandbridge in Virginia Beach.
Most all real estate is located just minutes to the Atlantic Ocean/Beach, Back Bay National Refuge, and False Cape State Park.
Just off the beach dolphins (sometimes whales) often patrol the ocean enjoying the bounty of available food. Watching these creatures is a treat in itself. Visiting nearby False Cape State Park is a must. Bike and walking/hiking paths are everywhere and provide abundant species of wildlife to be viewed. Like boating, kayaking, or fishing? Then Back Bay National Refuge is a place of nature unequalled.
Many homes are back from the Beach on the Bay and nestled on canal waterways leading to the open water – a paradise for boaters and home owners.
Sandbridge homes and condos total over 1600 properties providing many excellent choices for the potential home buyer. Condo lovers can choose between the three major developments comprised of "The Sanctuary at False Cape", "Sandbridge Station", and "Sandbridge Dunes".
Most single family homes nearer the beach are located on Sandfiddler (1st and 2nd row) and Sandpiper Roads (3rd and 4th row). The other desirable homes are back off these two streets towards Back Bay (many on the Bay or canal water with boat slips) and other properties located at the North End of the neighborhood ending at the Dam Neck Naval Facility. Not many miles away are stores and restaurants at Red Mill providing all the amenities needed.
The abundant inventory of rental homes and condos makes this a popular family vacation destination. However, most find the beach more relaxed and "laid back" than its counterpart at the Virginia Beach oceanfront resort area. Sandbridge Beach is often compared to the Outer Banks of North Carolina but without the large amount of vacationers.
Live and Love Sandbridge with swimming in the ocean, basking in the sun, enjoying the views, fishing, or just relaxing on the warm sand. This part of Virginia Beach has all of this and much more for the home, condo, or investor/rental owner.
Contact Creed Realty to own a piece of this unique paradise. Drop a note here.