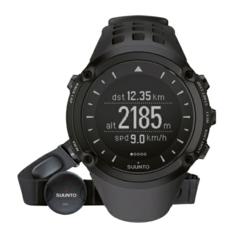 Suunto Ambit is the nicest new GPS watch we have tested this year
San Francisco, CA (PRWEB) April 24, 2012
The new Suunto Ambit GPS watch for explorers and ultra-athletes is, without question, one of the finest GPS watches ever made. The very durable construction and rugged casing are one of the first things to notice upon removing it from the packaging, it is very evident that this watch was built to last.
"The Suunto Ambit is the nicest new GPS watch we have tested this year" says Rusty Squire, President of Heart Rate Monitors California. He adds, "It feels very durable and has the functionality of a precision instrument."
The Suunto Ambit capabilities include a barometric altimeter to show weather and the correct altitude. Suunto Ambit also can mark 100 way points and navigate one home with a 3-D compass that is superb. It also uses GPS to show speed and distance and to create accurate maps of any adventure or workout.
The Suunto Ambit allows the individual to decide whether they are going to navigate or exercise, if the selection is exercise then a long series of sports is displayed from cycling to mountaineering to trail running. Just pick the sport and hit start.
The Suunto Ambit sports up to 50 hours of battery life through its lithium-ion rechargeable battery when set to one minute recording intervals which works fine for mountaineering or trekking. The recording intervals can be lowered to one second for faster sports like cycling to create greater detail but this lowers the battery life per charge to under 20 hours.
The on-screen visual elevation graph with the Suunto Ambit is stunning and shows trailing and current elevation.
The new FuseSpeed technology combines accelerometer and GPS to more accurately track speed changes in real-time compared to GPS alone and gives the user a more accurate portrayal of speed in real-time.
For skiers, mountaineers, cyclists, mountain bikers, ultra-runners and outdoor athletes there really is not a better GPS watch on the market today when compared based upon features, function and form.