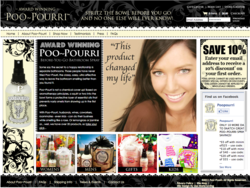 Award Winning Poo-Pourri Announces a New Website
Dallas, TX (PRWEB) April 24, 2012
Increased competition in the toiletry market could mean that toiletry manufacturers will be left behind without a stronger online presence. That is one of the driving forces behind the development of a new website for the maker of Poo-Pourri products. This aromatherapy-inspired product line helps consumers keep their bathrooms smelling fresh without the use of harmful chemicals.
MindBOX SEO is pleased to announce that it has worked with Poo-Pourri to promote their new website, and it's built for a better user experience. The sleek website will ensure that customers can find information easily about any Poo-Pourri odor-eliminating product. Better yet, customers can complete their web purchase in a secure environment.
This new website launch helps customers to avoid the potential embarrassment of having to purchase odor-elimination sprays in a retail store. Poo-Pourri products are natural oil-based products that neutralize odor-causing bacteria associated with toilets, pet waste, and dirty diapers. With a seamless user experience and a time-tested array of toiletry products, consumers will enjoy eliminating the owners of the unavoidable bathroom experience.
The key to maximizing the use of any retailer website is the incorporation of the latest principles in web design and web marketing. Through its new website, Poo-Pourri will be able to market products to more web customers in North America and abroad. People who have never heard of this line of products will learn about it because the website content is search engine optimized. On the website, web customers can make a purchase and share their love of Poo-Pourri products with family and friends.
Working with a well-qualified SEO firm can help a retailer expand to a wider consumer base and increase sales revenues. MindBOX SEO is pleased to deliver high-quality websites SEO for diverse clients such as Poo-Pourri. Readers interested in learning more about Poo-Pourri should visit http://poopourri.com
Search engine optimization is a proven technique for getting new customers to find a business website. When performed well, Search engine optimization also increases the number of links that exist between the business website and other websites around the world. A good SEO provider will optimize content for the business website while ensuring that all marketing messages contained in web content are beneficial to consumers.
MindBOX SEO welcomes inquiries from new clients considering redeveloping their website and increasing their sales online in domestic and international markets. Every project is an opportunity to drive customers to find their products and services on the Web. Readers interested in learning more about MindBOX SEO should visit http://www.mindboxseo.com
Release distributed by MindBOX Production http://www.mindboxproductions.com