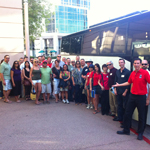 St, Louis, MO (PRWEB) April 23, 2012
Income property expert Jason Hartman invites real estate investors to join his St. Louis Wealth Building Bus Tour and Real Estate Education. The four-day event, May 18-21 commencing at the Lumiere Place Casino and Hotel, will showcase new and fully renovated and leased turnkey properties priced well below market value.
The Wealth Building Bus Tour is a strategic opportunity for investors to meet local market specialists in the St. Louis and St Robert areas. Prospective and seasoned investors alike are invited to attend this supercharged three-day tour for the early bird price of only $197. Registration is at http://www.jasonhartman.com/st-louis-income-property-investment-tour-education-2
"This is an unprecedented time for people to realize their dreams of creating wealth through income property investing," said Jason Hartman, founder and CEO, Platinum Properties Investor Network. "With the ongoing troubles in housing markets across the nation, there are excellent opportunities for the average investor to start buying real estate at deeply discounted prices. St Louis represents one of the most undervalued markets in the country and nearby St Robert offers a stable tenant base of military tenants facing a housing shortage."
On the St. Louis Wealth Building Bus Tour, investors will tour, analyze and be able to purchase turnkey, cash- flowing properties and learn from a team of income property experts to support their investments. Topics will include:

property analysis and acquisition
financing options
asset protection and estate planning
property management
renovation budgeting
construction financing
project management and more
The cost for the event is $197.00. This price includes appetizers at Friday night's opening meet and greet, breakfast and lunch on Saturday and lunch on the road on Sunday with a bonus St Robert tour on Monday. Most importantly, the ticket provides investors with access to all the informational presentations, opportunity to meet with financial planners, accountants, attorneys, insurance agents, property managers and a team of expert local market specialists. Yes, the ticket also includes an optional tour of St. Robert on Monday, May 21st at no extra charge.
Property prices in St. Louis and St Robert are very low, tenant rents are high and interest rates are at an all-time low—making the perfect combination for cash flow and future appreciation potential. Don't miss out on this opportunity to own turnkey properties that produce strong monthly cash flow and built in equity.
About Jason Hartman
Jason Hartman, CRS, GRI, CSP, AIPIS, is one of America's foremost experts on long-term wealth creation through monetary policy and income property. Jason is the founder of Platinum Properties Investor Network—a referral network designed to help people achieve The American Dream of financial freedom by purchasing income property in prudent markets nationwide. Jason is an accomplished entrepreneur, public speaker, media personality and author of 11 books.
Jason's Complete Solution for Real Estate Investors™ is a comprehensive system providing education, research, resources and technology for income property investment. His highly sought after educational events, speaking engagements and his acclaimed The Creating Wealth Show inspire and empower hundreds of thousands of people in 26 countries worldwide. For information, visit Jason Hartman online.