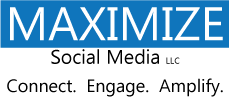 "We are excited about our expansion into the Los Angeles market and look forward to helping many local businesses generate more leads using social media," said Craig Collins, Senior VP of Maximize Social Media LLC
Los Angeles, CA (PRWEB) April 22, 2012
Social media agency Maximize Social Media LLC announced that it opened its second location in Los Angeles, the West Coast headquarters for the fast growing social media agency. The office will be headed by Senior Vice President Craig Collins, formerly the CEO of Social Media Edge. Maximize purchased Social Media Edge in July 2011.
Chris McLaughlin, the CEO of Maximize, said: "While we now have clients globally in English speaking countries, it makes strategic sense to have a permanent location in Los Angeles. We're now coast to coast with offices in California and Florida. Many of our clients are already in California so this new location will allow for future business development in the area."
Maximize Social Media specializes in social media management for medium sized businesses and operates in over 40 different verticals. Restaurants, car dealerships, dentists, financial advisors, banks, furniture stores, and physician practices are just a few of the over 40 different verticals that the social media agency currently handles. Maximize provides full service social media for companies that do not wish to hire a full time dedicated social media manager but that understand the importance of a strong social media presence.
Maximize will establish a business' presence on social networks that will provide the highest return on investment and generate quality prospects for the company. The company offers social media consulting and full management services for Facebook, Twitter, LinkedIn, Google+, Pinterest, and FourSquare, among others.
In addition, Maximize has a specialty in Facebook PPC management. By using enterprise class software, the Maximize team has proven that it can generate a very low cost per click by continuing to optimize the ad copy and image. Larger corporations that are looking to outsource their Facebook advertising have found a quick return on investment by using Maximize.
"We are excited about our expansion into the Los Angeles market and look forward to helping many local businesses generate more leads using social media," said Collins.
The new office is located at 1035 S. Grand Ave., 3rd Floor, in Los Angeles.
About Maximize Social Media LLC
Maximize Social Media (http://www.maximizesocialmedia.com) is a leading provider of social media management services for clients in over 40 different verticals. With offices in Florida and Los Angeles, Maximize provides social media management and Facebook advertising management for clients in English speaking countries such as the US, Canada, and Australia. The company also features social media management outsourcing for busy social media mangers looking for additional assistance on a white label basis.