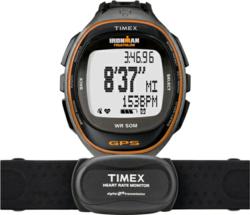 Timex Run Trainer is a great GPS watch for runners
San Francisco, CA (PRWEB) April 22, 2012
The Timex Ironman Run Trainer has consistently been a top selling running watch since its release at Heart Rate Monitors California because of its rich features and very competitive price point.
"Timex Run Trainer is a great GPS watch for runners", says Rusty Squire, President of Heart Rate Monitors California. He adds, "I tested the watch myself for several months and was impressed by the accuracy and the breadth of timing features".
The Timex Ironman Run Trainer with heart rate will offer runners heart rate, speed, distance, zone alerts, lap timers, countdown timers, and cadence with an optional Timex foot pod. One of the vagaries of the Timex Run Trainer is that if a foot pod is in use for cadence than the foot pod will do the cadence and the speed and distance. So the foot pod cancels the GPS use for speed and distance.
The Timex Run Trainer uses Training Peaks software, either the free version or the XO version which you will have to pay a monthly subscription fee for. The XO version is used by many top pro athletes like Tour de France winner Cadel Evans and Ironman World Champion Craig Alexander.
The Timex Ironman Run Trainer is reasonably enough sized to be used as an everyday watch for guys but is a bit big for many women. "While it is smaller than Timex's Global Trainer it is still bigger than the average wrist watch so we don't recommend it for women unless they have a wrist around 6 inches diameter" says Squire.
For around $40 less than the Garmin Forerunner 210, the Timex Ironman Run Trainer makes a worthy competitor given its greater diversity of features although the testers at Heart Rate Monitors California still prefer the Garmin Connect software for its mapping and player function.
The Timex Ironman Run Trainer battery lasts an admirable 8 to 9 hours, not long enough for ultra-marathons but certainly plenty good enough for marathons.