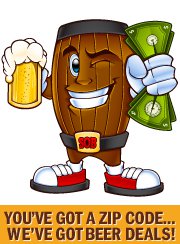 Google for beer
Houston, TX (PRWEB) April 25, 2012
This week, a new University of Illinois study reports that beer makes men smarter. Researchers gave 40 men several different brain-teasers to solve. They found that those who had consumed two pints of beer solved 40 percent more problems than those who were sober. Furthermore, the 25 drinkers finished their problems in just 12 seconds, while it took the 25 non-drinkers 15.5 seconds. At 0.07 Blood Alcohol Content, individuals were slightly worse at memory tasks, but significantly better at creative problem-solving, says psychologist Jennifer Wiley.
"This study only confirms what I've known for years... that beer has made me -- not only more attractive -- but smarter as well," jests Greg Thibodeaux, co-founder of SaveOnBrew.com, the world's only beer price search engine. It was this beer-fueled ingenuity that inspired him and his friends to begin compiling nationwide data on the lowest advertised beer prices for every zip-code. "Our friends were always calling us and asking us where to find the cheapest beer and we had never heard of anything like it, so we knew we were sitting on a goldmine."
SaveOnBrew.com aims to make beer drinkers smarter by showing the path to affordable beer. The website is free to use and accessible by mobile devices as well. Here, thirsty beer lovers will find prices for everything from Budweiser, Miller High Life and Labatt's to Tecate, Blue Moon and Heineken. They have recently just added a slew of new craft beers and microbrews to their database, which is growing literally day by day. "If you notice we're missing a particular store or brand, don't leave in a huff!" says Thibodeaux. "Just shoot us an email and we'd love to look into it. We adamantly believe: The more beer, the merrier!"
While this "Google for beer" search engine will undoubtedly make the average beer drinker a "hero" among his or her friends, the site's Cheap Beer Blog does not promise to make people much smarter. Thibodeaux explains: "Some people come to our blog to learn more about different types of beer – like Polish or Mexican beers. Other avid readers want to learn about obscure craft and micro brews they've never heard of before. Yet, most visitors are just college students who want to look at our photos of hot drunk girls, laugh at our oddball sense of humor, and leave a few snarky comments."
He encourages people who are 21 and older to visit http://www.SaveOnBrew.com to get the lowest price on beer in their zip codes and "further their education" by enjoying America's top-selling drink with their friends.
About SaveOnBrew.Com: Founded in 2010 to help thirsty beer drinkers across the United States find the lowest advertised prices for one of the world's most popular beverages.