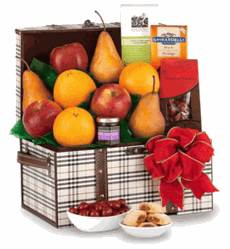 We strike to create a complete customer service experience, full of gift basket ideas
San Francisco, CA (PRWEB) April 28, 2012
MyGiftBasketIdeas.com, an online destination for gift basket ideas, reaffirms its commitment to customers by ensuring its gift baskets delivered comply with a new '100% on-time guarantee.'
A company spokesperson said, "Our customers rely on us for swift and punctual delivery. When shoppers order a custom-made gift basket from us, we have a responsibility as delivery conduits to hit the mark on time. It is imperative for us to work extra hard to ensure that no special occasion is missed because of late delivery."
"Over this popular spring-time period that includes Mother's Day, we will continue to raise our already excellent delivery standards. Customers can safeguard quality control by indicating clearly when they order from us the exact date on which their gift basket should be delivered."
Although gift baskets can be purchased from traditional bricks-and-mortar retailers, many feel that this is no substitute for the quality and element of surprise that comes with selecting a quality gift basket online for delivery.
The spokesperson commented, "MyGiftBasketIdeas.com provides a complete customer experience. From the level of inspiration our gift basket ideas provide, with our creative themes and thoughtful content, to our hassle-free delivery service."
The spokesperson continued, "It is gratifying to order a gift basket for a loved one as a surprise and have it professionally delivered. This is often much more convenient that buying a bulky gift, sneaking it home and unsuccessfully trying to hide it from the recipient, especially if you live in the same house or work with them."
"We are always brainstorming new, inventive and unique gift basket ideas. Most recently, we added a 'movie –themed' gift basket filled with popcorn, treats and all the other items that movie buffs love. We aim to keep those creative gift basket ideas coming to you, on time."
For fun gift basket ideas go to http://www.mygiftbasketideas.com.
# # #