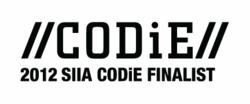 We love to teach kids how to think through math!
Pittsburgh, PA (PRWEB) April 25, 2012
Apangea Math, a web-based adaptive math intervention supporting grades 4 - Algebra 1, was awarded as a finalist for the 27th annual CODiE Awards, in the education technology category for Best Mathematics Instructional Solution.
"We are thrilled that Apangea Math is a finalist for this prestigious award. As a company of math teachers passionate about making a difference in the lives of struggling students, we are thrilled that our software's ability to do so has been recognized by the leading association in the industry," said Kevin McAliley, CEO of Apangea Math. "We love to teach kids how to think through math!"
Apangea Math is a research-based math intervention system designed to support students who are struggling with mathematics from grades 4–Algebra 1. The program transitions students to the rigor of the Common Core State Standards and prepares them for Algebra and beyond. Using a powerful blend of Web-based, adaptive instruction and live, state-certified math teachers, Apangea Math transforms the way students think about–and think through–mathematics.
The CODiE(TM) Awards, were established in 1986 by the Software Publishers Association (SPA), now SIIA, so that pioneers of the software industry could appraise and respect each other's work. Since then, the CODiE Awards program has established this and elevated the awards to a new level in showcasing the industry's finest products and services by honoring excellence in corporate achievement.
For the 2012 CODiE Awards, there were one hundred nineteen finalists announced across 25 different categories. The winners of all Ed Tech categories will be announced on Thursday, May 10, at the CODiE Awards Presentations at The Palace Hotel in San Francisco, Calif.
Follow Apangea Math on Twitter @ApangeaLearning and on Facebook.
About Apangea Learning
Apangea Learning (http://www.apangealearning.com) provides one-student-to-one-teacher differentiated instruction through an integration of tutoring technology and live, online certified teachers. With programs based on one of the world's largest bodies of cognitive research conducted by the U.S. Air Force, Apangea has both strong technical resources and a content-development prowess that enables it to harness advanced web technologies and offer innovative instruction techniques. The privately owned company is based in Pittsburgh, PA.
###